While there is convenience and flexibility that comes with cloud-based enterprise resource planning (ERP) technology, in particular Dynamics 365, the technology requires applications (apps) to deliver some of the functionality once given by Value Added Resellers. Let me explain further. If your business needs customizations, the code could be changed in AX by your VAR or Microsoft Partner. Dynamics 365, on the other hand, is encapsulated, and any desired changes are made through apps. Even though the cloud platform bounds with connectivity given by Microsoft Dynamics 365's common data model, doubters continue to worry about the vulnerabilities inherent in the Cloud and the Internet of Things (IoT). As briefly discussed earlier, on-premise ERP platforms offer a higher ability to customize specific features tailored just for your business.
On top of the perceived fear of Cloud platform vulnerabilities and less customizations, there are 6 valid reasons for selecting an On-Premise ERP solution.
1) Your company's leadership holds a non-discretionary attitude towards cloud computing
2) Your business model needs control of your data, data residency, and data isolation
3) Your business information fluctuates faster than the stock market, so dependency on speed and connectivity is extremely high to ensure business continuity
4) The business processes require the ability to customize the service infrastructure of the ERP system to meet specific business needs, such as scalability
5) Your company has recently invested in data center resources
6) You feel better served by having the choice of separating the service operator from the service provider to avoid being locked down by a single provider.
Microsoft's On-Premise Solutions
Dynamics AX On-Premise, once referred to as AX 2012 R3, may seem outdated by the name alone, but it is still rated by Panorama as one of the leaders in ERP. Microsoft is still investing in this solution. In fact, the software's last major cumulative release was just on 11/21/2016. Basically the solution may be a misnomer, but it has the features and functionality of Dynamics 365 for Operations; however, it is on-premise and does not have the HTML 5 codebase.
Compared to other ERP competitors, Dynamics AX reduces the average implementation time to around 10 months, lowers the cost of implementation while decreasing risk, all the while giving higher customization abilities, allowing for company wide satisfaction and user-satisfaction. Because of the customization and scalable configure-ability of AX, the solution is a better fit for manufacturers. Dynamics ERP gives manufacturing:
Financial Management
Business Intelligence and Reporting
HR Management
Payroll
Inventory Management
Warehouse Management
Supply Chain Management
Trade
Product Builder (Configuration)
Product Life-Cycle Management
Manufacturing Solutions (Discrete & Process)
Master Planning
Shop Floor Control
Service Management
Project Accounting & Management
Workspace Collaboration
Configuration and Development (Full Source Code)
Enterprise Portal
Yes, other ERP solutions offer enterprise integration, but none of them have the one unifying experience of Dynamics AX On-Premise. Dynamics AX is composed of many modules, which can be thought of as functional compartments. These modules work together to make running a business easier.
Another option for on-premise is Dynamics 365 for Operations. It will be available to purchase on-premise starting in June 2017, and a preview will begin in April. The special caveat to remaining on-premise with Dynamics 365 is as follows: The on-premise data will not benefit from Microsoft's intelligence capabilities of embedded analytics, machine learning, or other capabilities available to cloud subscribers. To discern the benefits of the cloud, read the next section below.
Microsoft's Cloud ERP: Dynamics 365
Microsoft Dynamics 365 is evolving into a total business software package allowing Microsoft's current CRM and ERP cloud solutions to be deployed in one cloud service with new role-based subscriptions with purpose-built apps to help manage specific business functions like field service, customer service, and project service automation. Using the common data model, Dynamics 365 includes analytics from Cortana Intelligence and Power BI, and the productivity power of Office 365.
The Dynamics 365 apps are designed so they can be easily and independently deployed. Your business can start with the apps you need, and as your business demands, you can adopt additional capabilities with ease as all the apps work together.
Dynamics 365 Enterprise Plan 1 includes CRM and these Apps:
Optimized for 250+ Employees
Microsoft Dynamics CRM and light ERP
Min. 20 seats on select offers
Powerapps that use the Microsoft common data model
Sales
Field Service
Customer Service
Project Service Automation
Plan one does not include operations (aka AX 7), whereas Dynamics 365 plan 2 includes plan 1 and operations or AX 7.
Dynamics 365 plan 2
The differences between Dynamics 365 for Operations versus Dynamics 365
The difference between Dynamics 365 for Operations (or Dynamics AX 7) versus Dynamics 365 Enterprise Edition is that your company can purchase plans, and not just a hybrid platform application. Your business can mix and match plans and apps. Each user may be licensed for the functionality they need via a plan, an app, or team member pricing level.
The plans for Dynamics 365 are offered in two ways. Right now it's referred to as plan 1 & plan 2.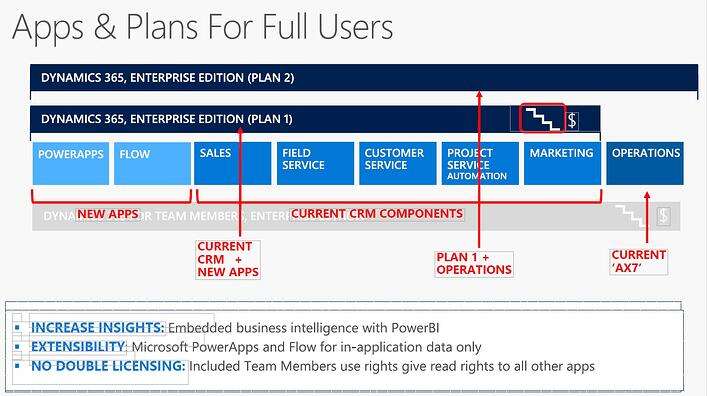 How to get Dynamics 365, Dynamics 365 for Operations, or Dynamics AX On-Premise
The new release of Dynamics AX 7, now called Operations, can be purchased as a stand-alone product for over 20 users in the public cloud; it will be offered in a hybrid cloud environment sometime in 2017. Or, it can be purchased including Adobe Cloud Marketing CRM; this option is spoken about above and is referred to as Dynamics 365 Enterprise Edition, plan 2. The New Dynamics in the cloud is a game changer for ERP in that it can be used anytime, anywhere, on any device, and it includes development space. The On-Premise Version, while not available on any device, can be adapted for mobility, and helps your company control your data, data residency, and data isolation. In any configuration, Dynamics ERP should be on your ERP shortlist. All three options need to be purchased from a Microsoft Partner. The Cloud offering has another caveat in that it needs to be purchased and implemented by a Microsoft Cloud Service Provider.
At Clients First Business Solutions, we are both a Microsoft Gold Partner and a Microsoft Cloud Service Provider with a team of tenured specialists with core competencies in the implementation and support of Microsoft Dynamics. In fact, we have over 170 years combined experience in Dynamics ERP. To explore all the capabilities of Dynamics AX On-Premise, (or Dynamics 365 for Operations) and find out how this business solution can help your business in manufacturing, whether it be for process or discrete, and achieve its full potential, reach out to one of our Dynamics AX offices:
Email: Minneapolis/St. Paul, Minnesota, or call at 877.428.7205.
Email: Dallas/Fort Worth, Texas , or call at 800.331.8382.
We are committed to making your work life easier through making ERP work harder for you and giving you better business processes as a result.