The ability of a Microsoft Dynamics partner or Vendor Added Reseller (also referred to as VAR) to utilize the basic functionality of an enterprise accounting software solution reveals the value they will be add to your erp implementation project. Sometimes though, a company's requirements extend outside the scope of Dynamics AX functionality – even after customization.
Our friend Joe Smith from the AXUG forums was inquiring about customizing print management solutions for invoicing in Dynamics AX 2012 (see below):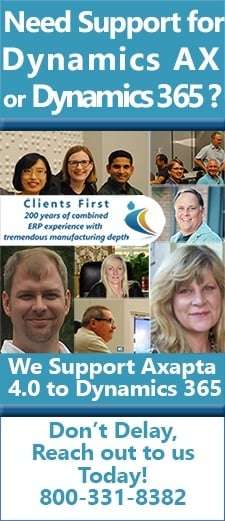 "My company and I have been looking into alternatives for invoice delivery in Microsoft Dynamics AX. The reason being, is that some customers prefer e-mail delivery, others would like invoices faxed and many would still like to receive invoices by standard mail. What have you found are the best solutions for automating invoice distribution among the different delivery methods? Out-of-the-box AX Print Management? A custom third party solution? "
-Joe Smith
Widget Manufacturer
Dallas, TX
Utilizing AX Print Management for Invoicing
At Clients First, we believe in utilizing the basic functionality that a Microsoft Dynamics Solution is capable of, so naturally I would suggest using AX Print Management first. AX Print Management is an out of the box way to automate sending out business documents. You can send to faxes if you have a fax server setup to have the faxes go through e-mail. There are also some third party solutions (add-ons) but we always suggest leveraging out of the box solutions first.
The way print management works in AX is by defining each document type in a hierarchical list consisting of modules, accounts and transactions. Thus, at each level in the hierarchy the print management settings can be defined. As in any case of a hierarchy, the settings are inherited from the higher level as it trickles down. So, if you have a default setting at the module level, then you'll need to override this setting at the account level.
In case of Joe Smith, he is wanting to customize invoice sending per customer. He'll need to Select a customer in the Customers form and from there, open the Print management setup form. When this comes up, Joe will need to expand the Free text invoice list, right-click the copy record titled Customer Copy and select Override. From here, any Print Management Settings he makes will be specific to that customer.
From here, this is where Joe will have to decide if the basic AX print management functionality will meet his needs or not. According to my knowledge (and bear with me folks, I'm only a technical writer) I believe a conditional setting can be developed to customize the "Destination" of the copy-whether that be in print, e-mail or mail. However, It may actually just work with printing. Getting into e-Invoicing would require me to continue on about another in depth topic (NOR) Set up e-Invoices, which might appear in an upcoming blog post.
Third Party Invoicing and Print Management Solutions
For those that are certain that out of the box Dynamics AX print management functionality won't cut it for your unique business needs, we've researched the following third party solutions recommended by Microsoft Dynamics World and our twitter channels:
Sandler Kahne Software: Sandler Kahne is known for it's eBanking suite for Microsoft Dynamics. They specialize in electronics processing for Microsoft Dynamics.
Ecrion XF: Rendering engine with custom integration, I think our friend Joe would find the Multi-channel outputs a solution that could meet his needs. Output in 20+ different formats so customers can receive their documents in the manner they prefer. Plus, other features the add-on offers.
Hubwoo: Hubwoo drives invoice automation, community and compliance between companies.
Metaviewer: Metaviewer Invoice Accelerator captures electronic and paper invoices while eliminating data entry. Also specializes in document automation for Dynamics AX.
Although we didn't delve into the technical issues surrounding Dynamics AX 2012 Print Management, an overview of the functionality might prove to be useful for a user wondering where to look next. We'd like to wish you luck with your future print management endeavors! (Also, register for our webinar e-mail list-we may have a topic on Invoicing in Dynamics coming soon!)