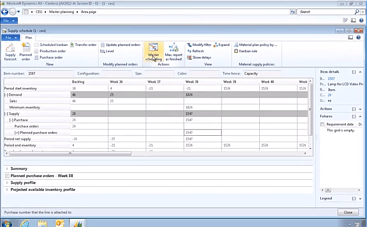 Shop floor scheduling in Dynamics AX can be automated via the Master Planning module. The basic functionality inherent in Microsoft Dynamics AX 2012 is hardwired to schedule backwards from the delivery date. And, as you may know, Master Scheduling in AX 2012 R2 reverses scheduling direction for all planned order types (see documentation here).
However, aside from the differences from earlier versions, special functions in Shop Floor Control still allow you to set up employee profiles, work profiles, indirect activities, parameters for projects, registration forms and pay agreements. Based on information relating to actual or forecasted orders, Master Planning in Dynamics AX calculates order requirements and capacity needs, and generates, tracks and modifies planned orders. Below, you can find tips on using and adjusting Shop Floor Control to Master Planning.
Shop Floor Scheduling Calculation Parameters
With these parameters, you can calculate time and pay in Dynamics AX shop floor scheduling. To prevent errors, the Calculation Parameters module requires you to introduce a code every time you perform specific changes. When choosing parameters, you can select different Registration types (working time, legal/illegal absence, flex-reducing absence/illegal absence and work-free flex zone) and Profile types (clock-in/clock-out, standard time/overtime, break/paid break and flex +/-) to specify how time should be calculated with regard to working hours and pay.
Dimension Control
Dimension Control enables you to differentiate among various types of activities and jobs and register particular values for them. Additionally, dimensions can be combined by setting the system to use values from both the Job and Employee modules or from only one of them.
Payroll
AX 2012 shop floor scheduling includes a payroll feature that you can use to create pay agreements and generate automatic payroll transactions upon approving registrations. With the help of this feature, you can also create different pay types and pay periods, adjust and remove pay agreements, set up payroll statistics, complete periodic tasks and even create manual premiums.
Available-to-Promise Calculation
Available-to-promise function, shortly referred to as ATP, is useful when an organization needs to use a quantity from an earlier invoice to meet a requirement. Thus, ATP can help you evaluate if the quantity of materials received at an earlier time can be used later.
Unlike previous versions of Axapta, Dynamics AX 2012 is more realistic, enabling you to calculate order requirements, plan production and manage purchase orders that started in the past. This means that the ATP calculation not only affects shop floor scheduling, but also Master Planning, requiring manufacturers to readjust the way they use these two modules in order to better control lead times. The features that allow you to schedule backward from the delivery date are ATP Backward Supply/Demand Time Fence and ATP Delayed Supply/Demand Offset Time.
Conversely, if you want to schedule forward from today, you have to use the Order Promising feature. Since this feature doesn't allow you to use planned order dates from the past, it draws attention to the importance of setting realistic instead of defined lead times.
While new features included in AX 2012 shop floor scheduling can be used to change "by-default" settings (e.g. "forward from today") in order to create production schedules that can be adjusted according to specific needs, added functionality limits freedom of planning. For instance, features that allow you to firm planned production orders – a critical operation for scheduling orders, providing information backward from the delivery date – will book materials and workforce even prior to releasing orders to the shop floor, preventing you from using those resources for other jobs.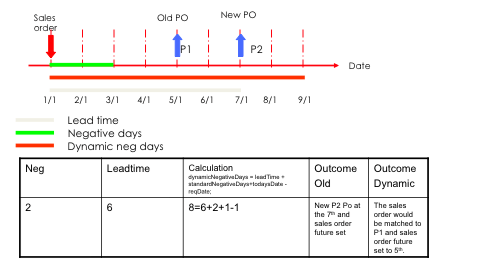 Order Priority
In finite scheduling, the Batch Order Sequencing feature automatically arranges orders based on pre-set characteristics. If you don't use finite scheduling, you have to set manual priorities for all orders. The best way to do this is to start with short-term scheduling, backward from the delivery date.
These functions can help you adjust Shop Floor Control module to Master Planning. Unfortunately, Master Planning customization can cause specific issues, such as blocking, increasing module runtime. To alleviate blocking, you can use a user connection to update your records or you can create a separate delta table to record modified values and use that table to summarize changes once the Master Planning module runs.
Does it sound too complicated? If yes, then best thing you can do is to approach a team of professionals who are ready to help you implement Dynamics AX shop floor scheduling, Master Planning and any other module your organization many need.
For additional resources, you can download the Master Planning Performance guide below for AX 2009: