Clients First Customer, Power Storage Solutions, Earns Acumatica Customer of the Year 2019 Award - Software for Project Management and more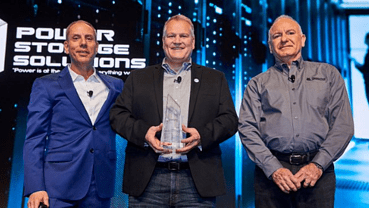 We're proud to announce that our client Power Storage Solutions received the Acumatica Customer of the Year 2019 at Acumatica's Summit 2020. Jon Roskill CEO of Acumatica presented the award to Derrick Elledge, VP of Operations at Power Storage Solutions. Our Managing Director, Mike Conti represented the Clients First Business Solutions onstage with Jon Roskill. Clients First implemented Acumatica in 60 days. This is a high honor shared by our client and our team who helped make it happen. The interview with Doug Elledge and Mike Conti was in front of a live audience of 2,300, plus thousands more via live stream.
Click below for the full interview and award ceremony:
The search for an all-in-one software for project management and more…
Here's their story…
In 2018, Power Storage Solutions (PSS) was a brand new start-up after a series of mergers and acquisitions. They inherited a $24 million company that was a spin-off of Interstate Battery with 20,000 parts and 5,000 customers. PSS is an electronic, telecommunication and service company that provides DC power backups. In the event of a loss of power, they provide the power, so you don't lose critical loads. They focus on engineering, fulfillment, installation and ongoing services to make sure the installed systems are operating properly. PSS has 70 employees in 46 states and growing.
Executive Summary: Power Storage Solutions was looking for a competitive edge to ensure the success of their company and customers. They learned from the past that trying to patch together many disparate best-of-breed solutions was the wrong direction. PSS selected Acumatica as their all-in-one solution and Clients First Business Solutions to help with the aggressive implementation and go-live schedule.
Situation: Power Storage Solutions had 6-months to migrate from 5 different disconnected systems. It was crunch time to select, implement and go live on a new integrated solution. They turned to Clients First Business Solution for their deep understanding and experience in their industry.
Aggressive go-live deadline - Interstate Battery gave PSS 6 months to move off the old systems from InterState Battery. PSS had to select and implement a new system in that time frame. PSS took 3 months to review ERP options. PSS selected Clients First to implement Acumatica. Clients First Business Solutions was able to accomplish the full implementation in the 60-day cut-off!!
"We had to take all the data from all the systems, pull it all together and put it into Acumatica. One of the things that really helped us a great deal was the power of the import tools. Our consultants Jean, Kristi and Sean worked really hard on the engagement and they were able to pull that data in without any heavy-duty technical work." Mike Conti Managing Director, Clients First Business Solutions. Then Clients First created meaningful reports and dashboards from all the information.
Lack of integration - The 5 best-of-breed systems were great on their own but did not integrate so they were more like worst-of-breed. PSS was tired of wasting time and talent that could be used for more productive activities. They were bleeding money trying to patch things together.
Here's what PSS used before Acumatica. They tried to patch together best-of-breed solutions but the lack of integration caused frustration and wasted time. Countless hours were spent dealing with manual data entry and switching from one to another to look up information.
CRM and Quoting – Salesforce and Salesforce CPQ
Expense management – Concur
Time tracking – Workday
Inventory and service management - Davisware
ERP – NetSuite
Clients First was a big reason Power Storage Solutions was up and running in 60 days.
"We're now working with them to add timecards into the system, implementing CRM, sales order quoting, and then the service module will be added," Elledge says.
ERP systems evaluated – Oracle, NetSuite, QuickBooks, Sage and Microsoft Dynamics
The Goals
Integration - Merge 5 best of breed non-integrated systems to 1 integrated system - Acumatica cloud ERP
Project accounting - Deliver process on time and on budget by improving and simplifying complex project accounting/project management
Streamline quote to cash
The Solutions - It's the people…it's the expertise…it's the technology!
Teamwork and collaboration - Our Clients First team had the opportunity to work with an extremely professional, high performing team at Power Storage Solutions. Great teamwork helped cultivate great collaboration and great results.
Understanding of current operations – We relied on the incredible team at Power Storage Solutions to understand their current situation and how we can help them accomplish their goals.
Expertise in the industry and technology – Our Clients First Business Solution team has over 25 years of experience working with ERP systems. We have a deep understanding of how to optimize project accounting strategies for the service industry.
"Who you pick will make or break your implementation, they have got to know the program inside and out and have business sense, this is what you get with Clients First" Elledge states.
Integrated all-in-one solution – Acumatica cloud ERP with project accounting, financial management, customer management and inter-company accounting
Elledge says, "In 60 days, we went from nothing in Acumatica to launching a $24 million company with 20,000 parts, 5,000 customers and having sales orders, projects, inventory, payables, and receivables live. It's astronomical when you look at what we did and how Acumatica's cloud ERP system supports us."
Key Results – ROI, Integration, efficiency, communication and more to come!
Rapid ROI - Transformed operations and increased profitability
Rapid ROI - Reduced month-end close by more than 15 days
"Once we launched, it was amazing," he says. "During the first month, we billed $1.7 million straight out of Acumatica and closed the month in 45 days. In January, it only took 30 days to close, and February 15 days and March 5 days." – Elledge
Rapid ROI - Eliminated some $50,000 in waste a month from lost revenue, time, and information
"Our top benefit was the cost and time getting up and running on the system," Elledge says. "Now that we're starting to build dashboards and people are communicating through the system, we're changing the way are running our business."
Rapid ROI – Improved project management helped reduce project feedback loop from 8 weeks to 1, improving scheduling, quoting, and gross profits
Rapid ROI – Achieved a 6% increase to the bottom line
Integration and efficiency - Increased efficiency with seamless software integration
Integration and improved communication – Full integration enables Power Storage Solutions to make better, data-driven decisions
This success story is a great illustration of how our Clients First Business Solutions team leverages our experience for a client that's in a highly competitive market. To compete and win, PSS realizes the importance of adopting cutting-edge technology and business processes. PSS relied on the help of consultants like Clients First Business Solutions to help meet their goals. PSS knows that an integrated system is the key to success because they learned the hard way in the past.
You are invited to join our webinar on Wednesday, February 12, 2020 to learn how service companies like Power Storage Solutions increase profitability using modern technology systems and strategies.
4 Ways to Improve Project Accounting Profitability
Complimentary Webinar
Date: Wed, February 12, 2020
Time: 11 AM PT / 1 PM CT
1 hour
In this webinar we will demonstrate the following:
How to automate cost tracking
How to automate revenue recognition
How to automate time and expense management on-time and on-budget
How to monitor and manage changes with real-time integration
Join forces with Clients First Business Solutions and Acumatica cloud ERP
Our Clients First Business Solutions team has been in the business of ERP Implementation for decades. We've helped companies just like yours to get the job done. So, if you're ready to take your business to the next level, we're here for you!
Contact us today to learn more! Ask about our Partner Program for Acumatica Partners who are interested in our Acumatica add-on solutions.
Email: Minneapolis/St. Paul, Minnesota, or call us at 877.428.7205.
Email: Dallas/Fort Worth, Texas, or call us at 800.331.8382.