The role of Enterprise Resource Planning (ERP) software solutions in managing different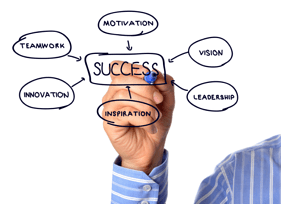 business areas, including manufacturing and maintenance, has expanded significantly over the past few years. To fully benefit from an ERP initiative, the first thing you should know is that successful ERP implementation requires involvement from you, your employees, stakeholders, and end users.
Although IT has always been responsible for combining new technologies with existing modules, the transition from a traditional business structure to a new ERP system goes far beyond regular IT processes, and that's because it requires companies to adjust current procedures to meet the requirements of specific ERP solutions. This can only be done by creating a comprehensive ERP implementation project plan.
Developing Your ERP Implementation Plan
According to ERP specialists, ERP implementation problems aren't in the software solutions available for different industry sectors, but in the way companies combine these solutions with existing business structures. To develop a functional ERP implementation plan that can help you fine tune your organization to meet the requirements of a certain ERP initiative, take the time to check the following best practices.
Understand Why Your Organization Needs an ERP Solution: Successful ERP implementation is characterized by a clearly defined purpose combined with a series of attainable goals. To define your purpose, create an ERP implementation project plan that clearly articulates system requirements and metrics. This means laying a good foundation before beginning ERP implementation. If you don't know where to start, look for ERP products that come with proficient, reliable support. One of the best options available today is Microsoft Dynamics AX.
Analyze Requirements: When analyzing the requirements of the ERP system you intend to implement into your organization, don't focus only on internal resources. To bring your initiative to life, you need experts in ERP implementation and process reengineering. Additionally, running a complex analysis can help you set a budget that covers all the requirements, regardless of how varied they are. Coming down to process reengineering, specialists in ERP are ready to assist you in choosing scalable processes that can be adjusted to keep up with your current and future business needs. Augmenting your team with experts who have previously done ERP implementations almost guarantees success.
Invest in Training: An ERP initiative not only affects your systems and business processes, but also requires your employees to change the way they complete specific tasks. When implementing an ERP system into your organization, it's unreasonable to expect your employees to change their behavior without training them. Since managing change is a complex, ongoing process, investing in training can facilitate the success of ERP implementation. The team or person training your staff should fully understand your company and the ERP solution you wish to adopt.
Plan Early: Recent studies indicate that about 68 percent of companies complain that ERP implementation takes longer than expected or fails completely. These two issues are typically attributed to poor planning. Getting excited about the advantages of combining your existing business systems with an advanced ERP solution can persuade you to "dive in" without developing an ERP implementation project plan. This is a huge mistake. Without a plan including all the activities associated with key performance measures, requirements definition, vendor selection, data migration, ongoing reviews and feedbacks, testing, and risk management, ERP implementation will most probably fail to provide the expected outcomes.
Ensure Organizational Commitment: A distinguishing trait of successful ERP initiatives is organizational commitment. More and more experts confirm that ERP implementations are complex projects that can fail without the support of C-level executives, such as CIOs, CFOs and CEOs. Together with your management team, you can support an ERP project by planning, organizing, and managing resources; establishing strategic directions; and making high-level decisions about how a specific ERP solution will be involved in running your organization.


Developing a complex ERP implementation project plan can help you identify and address specific issues, such as data conversion gaps, functionality problems, and production and personnel concerns. This helps you create a single point of accountability that any local, regional, or global organization needs if it wants to build a lasting competitive advantage.