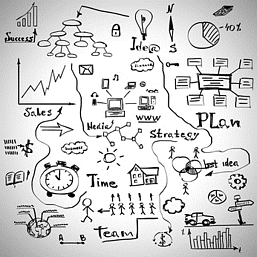 The requirement analysis and design process plays a critical role in successful implementation of ERP project plans that could help organizations achieve tangible benefits, including process efficiency and cost reduction at all levels. To perfect this process, most businesspeople structure analysis and design projects by following a "bottom-up" approach. If you decide to organize your project in the same manner, you'll be able to optimize all of your business processes and create value even in highly uncertain business environments. Here are a few tips for how you can do this.
Assessing Requirements
Defining organization requirements can be done either by interviewing key employees in each department or by performing problem identification analyses, such as organizational context analysis and enterprise process model analysis. Besides allowing you to assess requirements, these analyses will indicate how a new solution could help you solve industry-specific problems.
Developing Diagrams
Diagrams are very important for requirement analysis and design projects, because they illustrate graphically how work is done in your organization. Besides presenting the overall system functionality, diagrams underline process efficiencies and inefficiencies, offering a clear picture of your organization's "as-is" state. Based on diagrams, you can develop new concepts for identifying problems, eliminating inefficiencies, and re-engineering business processes to achieve the desired "to-be" state.
Choosing Add-On Solutions
Once business requirements are defined, it's critical to choose the most appropriate system add-ons, which can help you address very specific business aspects. Since add-ons are often necessary to manage continuous process improvements, developers complement application infrastructures with advanced software components, which make ERP systems and add-ons completely integrable. In addition, developers create complex architecture diagrams that offer detailed views of systems, facilitating further verification of performance indicators to ensure that all expectations are met, process errors are prevented, and defect corrective tools/action plans are in place.
Designing Applications
A high-level architecture not only provides valuable insights into systems, but also indicates the constitutive elements of its levels/tiers, enabling developers to build additional applications that extend system functionality even further. Based on clients' feedback, ERP developers can easily access and redesign application infrastructures to better address any new requirements.
The fact that all these things can help you perfect the requirement analysis and design process can't be denied. However, don't forget that a well-planned initiative is only the first element that delivers sustainable process improvement in key business areas, such as human resources, finance, and administrative operations.