Organizations have been using Enterprise Resource Management (ERP) systems for more than two decades now. Most people misunderstand ERP and think it refers to an accounting or finance package. However, more than these, an ERP system allows a business to capture various forms of data that provide accurate visibility on its whole scope of operations.
The data provided by an ERP system can help managers in making key business decisions, create operational efficiency, and enable more effective collaboration between different departments of the organization.
However, implementing the wrong ERP system, or improper implementation, can be counterproductive to the potential benefits.
ERP for Small and Large Businesses
Initially, ERP was the preserve of large organizations with the financial muscle to invest large sums in the development of custom solutions. However, things have changed over recent years.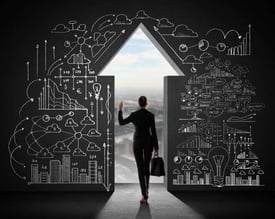 As technology has evolved, most small and medium-sized businesses can achieve significant levels of functionality with different affordable solutions. The advent of cloud technology has significantly lowered the barrier of entry for businesses looking for ERP solutions. Cloud ERP companies provide standard software package solutions with many of the sophisticated features available in traditional on-premise systems, but without the astronomical costs.
Moreover, mobility is now possible with ERP; users can view transaction or operational data in real-time. This eliminates the need to re-key the information as is the case when things are done manually.
Change is Good
One of the principles of effective ERP deployment is that it should enhance, add value, and improve work practices in the organization. Therefore, management should encourage the adoption of ERP, and its benefits should be explained to the employees who will be using it.
The return on investment of an ERP system should be clear and measurable. In most cases, the benefits will be evident through automation and eradication of manual or paper-based processes. Users will have more time to concentrate on their core tasks instead of being involved in time-consuming, monotonous tasks that can be handled more accurately by the system.
Other metrics that can be used to determine success include accelerated sales, improved cash collection, and optimized inventory, all of which affect the bottom line.
An ERP partner that has implemented different comparable systems can suggest new ways of doing things, which may be unconventional to your company. To achieve the benefits from a system, the traditional ways of doing things must be challenged, and the organization should be open to new evolutionary approaches that can be made possible by the ERP.
The Possibilities with ERP
ERP brings a whole host of possibilities to the operations of an organization. For example, companies can significantly improve their efficiencies by linking the front end with the back end. An ERP software can enable the creation of workflows to prompt all activities, from fulfillment to invoicing. The system can also be integrated with a transactional website to fulfill orders automatically.
Through the use of digital signatures, quotes can be converted into orders seamlessly. This will eliminate many of the steps that increase the time to approval and lengthen the sales process. Using ERP also eliminates many of the errors experienced in the sales journey.
Proper Implementation is a Must
Installing an ERP system without the goodwill and support of the management and other users will make your efforts of improving efficiency futile.
However, ERP systems are complex and may involve processing a vast amount of data. Moreover, key employees need to be trained on how to use the systems; otherwise little benefit will be realized from it.
To ensure the success of any ERP project, there are a number of things that should be addressed. These include:
Key management should support the project
Planning is essential in the selection and implementation of the project
Testing is crucial to ensure the platform works as expected
Customization is key to improving operational efficiencies
The ERP system will be sitting at the heart of your business. If the system is not helping to improve your business processes, you should evaluate your implementation or consider a different system. A consulting company can help your organization identify your immediate and long term ERP requirements and suggest the best platform to purchase.