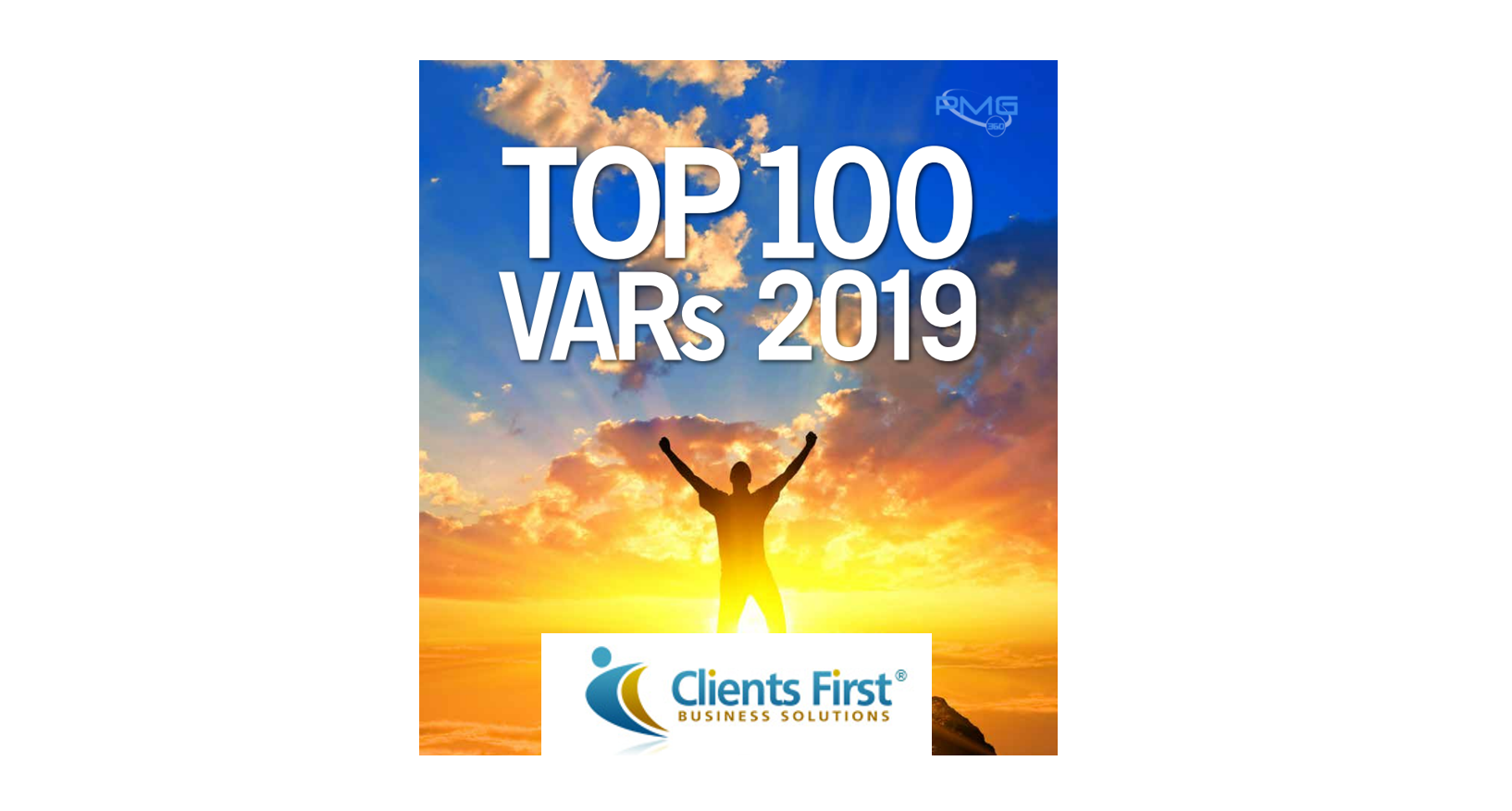 Clients First Business Solutions is ranked in the top 20 on Bob Scott's Top 100 VARs 2019 in the United States. We are honored to again be recognized among the most prominent and successful firms providing ERP solutions to small and medium-sized businesses nationally.
This annual "Top 100" highlights trends in ERP and spotlights companies that have adapted to ongoing changes in the industry. Clients First's rise further up the Top 100 VAR list every year reflects our unwavering commitment to providing top tier solutions to meet the changing needs of our clients.
2019 ERP Trends
According to the Top 100 VARs report, the key trends for ERP in 2019 showcase the need for expertise in finance, industry, and technology—three reasons why more than 750 customers have selected Clients First as their ERP partner since 2003.
Knowledge of Finance and Accounting

– We know firsthand the ins-and-outs of finance and the challenges you face day-to-day. Our solutions meet those needs so you can focus on the activities that generate revenue.

Understanding Consumers and Industries – We know what it's like to be the one charged with implementing a new ERP system. We came from the business side of the industries we serve before moving to the technical side of things. From start to finish we understand what you need to keep your business going and growing.
Technology Services for Your Needs – One size does not fit all. That's why we offer multiple ERP solutions. We also offer cloud, on-premise, and hybrid hosting. Our out-of-the-box and custom solutions are tailored to your business needs.
Our Top Tier Solutions
With Clients First you get industry experts who understand the challenges and opportunities facing your industry that can impact your bottom line. We speak your language, we understand your business, and we've got the collective expertise to solve your challenges. We've chosen to focus our efforts in areas where our expertise and unique suite of technology solutions fit best.
We represent four of the top ERP publishers in the world: Acumatica, Epicor, Microsoft, and SAP Business One. As Gold Partners, we know our products inside and out. We'll help you compare features and functionality to ensure the best fit for your business.
A Local Company with National Reach
With seven offices across the United States, Clients First offers personalized, local service in a number of markets – Alabama, Florida, Illinois, Minnesota, New Jersey, Tennessee, and Texas.
If you're looking for an ERP partner known for our expertise in Manufacturing, Wholesale Distribution, and Professional and Field Services, give us a call.
Contact us at 800-331-8382 or email us at sales@cfbs-us.com.