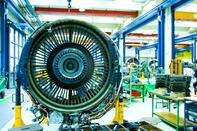 Regardless of the MRO sector your company operates within, be it heavy equipment, aircraft, or manufacturing, the business software solution you choose should provide complex functionality to help you achieve your business goals.

An advanced ERP solution must include a rich assortment of features, ranging from inherent document management, strong financials, serviceable material management, and, of course, a great MRO solution. If your MRO business sells parts, then you will need advanced inventory and distribution. Serial traceability down to the component of your customer's equipment would also greatly benefit an MRO business. You need the software to minimize paper-based administration, prevent costly services, efficiently plan, schedule and monitor work orders, improve the effectiveness of field-based and mobile maintenance, and automate quality checks, etc. Unfortunately, many MROs are unaware that such a solution exists.
Clients First ProMRO and Dynamics AX Solutions Take Your Business to the Next Level
Unlike other ERP systems that claim to provide full MRO functionality, Dynamics AX truly delivers a complex business solution for MROs. Combined with the ProMRO module, specifically developed by Clients First for the MRO industry, Dynamics AX is the secret sauce a MRO should get in order to:
Develop proactive maintenance strategies. Replacing reactive maintenance with preventive maintenance gives MROs more control over future failures and repairs, allowing them to reduce operating costs not only for themselves but also for their customers. An MRO company can use Dynamics AX together with the ProMRO module to:
automatically populate your customers' quotes with items, services, and contact information, and also allows for dynamic quoting based on margin requirements – and previous jobs on similar or the same equipment
create standardized lists of maintenance tasks and break down activities by department; automatically generate work orders from project quotations
print out project confirmations along with basic information, including the maintenance/repair activities required, spare parts, materials and equipment needed, general pricing on projects, and delivery address
utilize part applicability and substitution; send email alerts and utilize workflows; update information in real time
Have the right parts and equipment on hand.
For an airline, extending the time on wing is of the utmost importance; for a manufacturer that has to service its customer's equipment, it's critical to be able to
utilize serial numbers
and parts applicability. If you're an MRO service provider, Dynamics AX delivers a complete
MRO software solution
that allows you to meet the expectations of different clients. You can use the system to:
identify inaccuracies that can lead to order fulfillment issues
automatically reserve and order the parts and materials needed for planned maintenance
modify work orders rapidly, according to new problems discovered during maintenance or repair
integrate up-to-date information into existing activities like invoicing for greater efficiency
Complementing the Dynamics AX ERP software solution, the ProMRO module facilitates capacity and resource planning along with part applicability, substitution, selling, servicing, repairing, and manufacturing activities to support the used serviceable material strategies implemented by many airlines.
Gain real-time visibility. The addition of ProMRO with Dynamics AX gives users a 360-degree insight into all MRO operations and costs. Including Costing Options and Cost Capturing functionality, the ProMRO module provides valuable information on fixed price, time and materials cost, and the total cost of each operation in relation to labor, inventory, and miscellaneous expenses.
Manage laborious MRO activities without cumbersome maintenance and repair operational processes. Automatic work order scheduling, electronic alerts, quality tracking, and maintenance audit scheduling are several features the software solution makes available for the MROs servicing various industries. In addition, Dynamics AX and ProMRO provide configurable e-mail alerts, MRO tracking based on core, serial, and batch number, and outside processing functionality for costs and traceability activities.
Comply with industry regulations. Dynamics AX and ProMRO can help you keep up with regulatory changes in the MRO industry. Furthermore, custom functions can be created as new standards are developed and go into effect.
Initiate and maintain collaborations. To help MROs address all their business needs, the functionality included in Dynamics AX facilitates efficient and effective collaboration with business partners, customers, suppliers, and vendors.
In summary, Dynamics AX combined with the capabilities included in ProMRO allows you to "connect all the dots" in your organization so that superior performance and strategic success can be easily achieved.
To find out more about Dynamics AX and the ProMRO module, and how these two systems can help deliver reliability at a minimum cost, while keeping your customers' equipment running, contact our sales team at 800.331.8382 or email sales@clientsfirst-tx.com.