Capable of streamlining particular business processes relating to productivity, inventory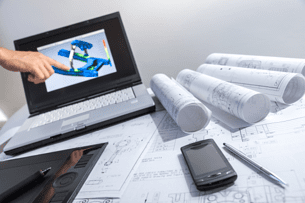 management and cost control, a job order costing system delivers one of the most reliable solutions for increasing productivity and reducing operational costs in your Maintenance, Repair and Overhaul (MRO) organization. However, to help you understand the real reasons why you should integrate a job order software solution, such as Microsoft Dynamics AX, into your business, the next section presents the advantages of using such a product.
A job order system can help you not only to reduce costs and increase profitability, but also to achieve specific targets, as follows:
Integration of Supply Chain Functions: Most MRO companies focus on transactional processes, such as job order execution, inventory issue/return, purchase order processing and purchase requisition management. For better supply chain management, it's imperative to move forward and integrate all end-to-end processes, from planning to execution. A job order costing system can help you do this and address specific issues, including suboptimal inventory management, unavailability of assets and high procurement costs.
In-depth Insight into Your Business Operations: Demand invisibility represents an important issue in the MRO organizations that keep records manually. Considering that demand invisibility negatively affects inventory and cost management, leading to stock shortage and high costs throughout the supply chain, integrating a job order software program into your business is critical because it gives you in-depth insight into maintenance and repair operations. Additionally, a job order costing system is able to provide detailed information about planned and unplanned maintenance and repair tasks. While planned tasks are the result of preventive maintenance plans, shutdown orders and field change orders, the unplanned tasks usually arise out of breakdowns.
Accurate and Complete Master Data: Master data management delivers the foundation for planning and executing different MRO tasks. A job order costing system enables you to manage specific master data elements, including asset master – using this system, you can plan inventory accurately and reduce the acquisition and maintenance costs; maintenance task – since this system automatically pairs maintenance and repair tasks with Bills of Materials (BOM), it can help you not only to automate the planning and execution cycle, but also to schedule the necessary workforce, materials and tools for each operation; and part cataloging – a work order system turns the difficult task of cataloging parts, materials and tools into a simple assignment by allowing you to use unique SKU codes, which decrease the chances of inventory increase and stock outs.
Effective Inventory Management: A job order costing system comes with special tools and functions, which can help you select the right stocking policy, carry out proper inventory planning, and deal with specific MRO aspects, such as demand unpredictability and part criticality. Without having a job order software product on your side, you'll continue to face particular problems, including suboptimal inventory levels, high levels of obsolete and non-moving inventory items, long maintenance time due to non-availability of spare parts and low service levels.
Efficient Warehouse: MRO warehousing is extremely challenging and complex especially because it includes materials different in size, shape and attributes. Moreover, some goods are perishable, while others are prone to pilferage, requiring special storage conditions. If you wonder how a job order software product can help you streamline your warehouse operations, you should know that it comes along with special monitoring functions that can be setup to send notifications before critical events, which are able to compromise your stock items, happen. Getting notifications long before such events occur allows you to implement the most appropriate preventive, corrective or urgent measures.
Now, knowing that a job order costing system can help you reduce your inventory levels, increase profit margins, establish governance practices for effective item management, adjust inventory order points and lead time, standardize existing MRO data and get a wide range of ERP applications for MRO organizations, you cannot deny that it brings along unmatchable benefits.