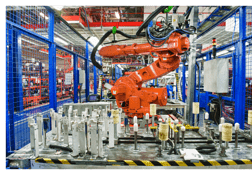 The economy is back on the upswing, and so is the competition. For organizations in the Maintenance, Repair & Overhaul (MRO) industry that are still fighting inefficient labor and parts costing, the best thing they can do is start looking for reliable
equipment maintenance tracking software
NOW.
Benefits of such a solution need not to be over stressed, but the sooner you upgrade your accounting/supply software, the sooner you'll be able to improve the image of your business. Business value, on the other hand, cannot be overstressed. The business value obtained via maintenance tracking software not only aids in achieving your cost-contained goals but positively influences the way your current and potential customers perceive your operation.
Equipment maintenance tracking software achieves this by optimizing your plant's preventive periodic maintenance and repair activities, while giving decision makers valuable insight into business data regarding equipment, resources and logistics.
Maintenance Tracking Software and Your Business Strategy
Since company equipment is one of the single most expensive investments for an organization, MRO industry experts recommend combining enterprise accounting software products, such as Microsoft Dynamics AX with maintenance management system modules, knowing that the resulting solution will give visibility into an MRO organization's equipment availability and reliability. Enterprise Resource Planning (ERP) systems such as this, provide seamless integration between departments-ultimately scheduling maintenance and repair tasks cost-effectively.
Immediate benefits realized via implementation of an equipment maintenance tracking module/enterprise accounting solution are as follows:
Access to Real-Time Information:

Equipment maintenance tracking software delivers real-time visibility into critical data. For multi-site organizations, this real-time information provides locations where materials are stored (Ex: Headquarters in Dallas, Texas can see that equipment materials are stored at a warehouse in Tulsa, Oklahoma). This real-time interface also presents the tools

and materials reserved for certain jobs, while also pointing out low stock levels to avoid stock shortages and even potential human error. If one of your machines requires particular parts, for instance, the software will place those parts on "reserve" as soon as you fill out the Work Order form. This prevents your workers from reserving the same parts for another task.
Preventative Maintenance: Although you can use the maintenance tracking software to schedule routine maintenance in advance, which gives you enough time to gather the necessary resources and assign the most effective employees to each job, the same system allows you to generate and manage ad-hoc work orders. Additionally, this solution can be configured to monitor meter readings and notify you about compulsory maintenance tasks, helping you remain compliant with the laws.
Cost Reduction:

Equipment maintenance tracking software also enables you to carry out repetitive processes in a standardized way, which means that you can complete a higher number of tasks within the same timeframe. By serving more customers and managing your maintenance programs better than before, you can reduce costs and boost profit margins.
Equipment Downtime Decrease: Equipment downtime is critical for productivity. Luckily, the ability of the equipment maintenance tracking system to monitor processes and notify users about preventive maintenance assignments leads to a decrease in equipment downtime, positively affecting the manufacturing and delivery process. Based on preventative maintenance schedules, bills of materials, inspection routes and safety procedures, this software product also issues various reports that you can use to make sound and timely decisions that will reduce equipment downtime even more.
Effective

Work Order Software

and Inventory Management: Most maintenance tracking software solutions available today can be set up to record, manage and convert work requests into work orders; calculate the costs associated with various maintenance or repair operations; assign the optimal number of employees for each task based on their productivity ratio and expertise; track parts and labor; and report on work orders, job cost, response time, job time and downtime via email or SMS. You can combine different cost, time and work order reports in order to find the most efficient way to complete an assignment.
An equipment maintenance tracking software product is also able to track the overall equipment effectiveness (OEE) by analyzing three elements, such as equipment availability, provided by the percentage of time a particular piece can work; utilization, indicating manufacturers' ratings given to products; and quality rate, which points out how well a piece of equipment operates. By checking the OEE score of your organization, you can adopt the best corrective measures for improving maintenance productivity.