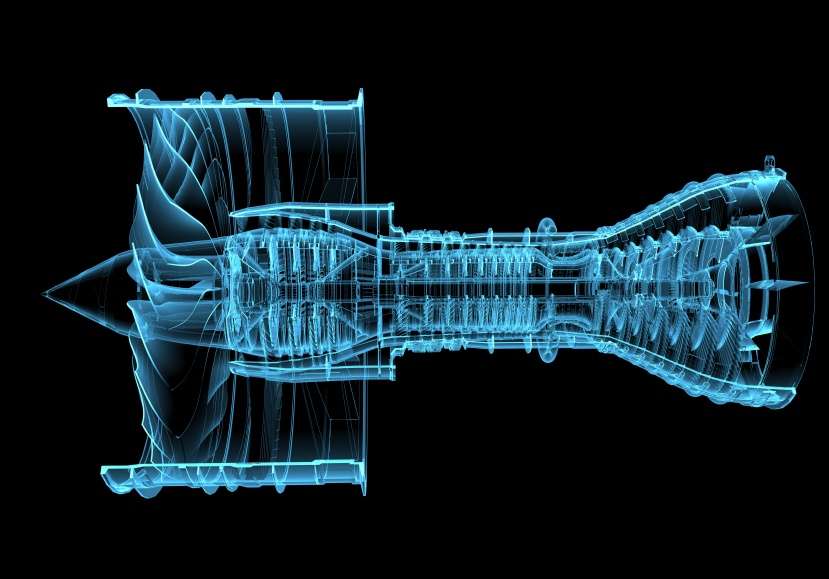 Do you really need specialized Maintenance, Repair, and Operations (MRO) software when Microsoft Excel delivers a seemingly cost effective tool for document quote generation? If you ask yourself this question, one thing you should know is that almost anyone who works in any service or repair realm can confirm that creating price quotes in Excel is a cumbersome task that most often doesn't pay off in terms of efficiency, accuracy or costs involved. Basically, not using a database driven quoting or sales order tool can cost your company money.
Quoting for The MRO is complex
Quotes are even more difficult for MRO sales teams that need to take into account all the elements typically affecting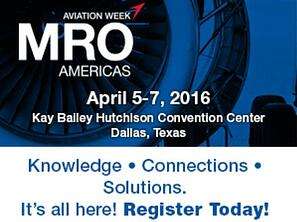 your industry:
hourly labor rates
costing options for fixed price and costing options using time and materials
parts applicability and approved substitution availability
customer-specific discounts and margin requirements
providing accurate estimated dates for repair completion
looking up the customers' equipment to see if you worked on it before
report on your wins, losses, and why
Only one time saving solution needed
Clients First understands the reluctance of sourcing and implementing an ERP business solution. From what we hear in the marketplace, some of our competitors' solutions offer only one software for the MRO line of business processes, so you end up with silos of data and numerous software that has to be supported. For example, the software publisher may offer an MRO solution, but nothing for manufacturing and/or distribution and finance. However, this is not the case with Dynamics AX and ProMRO. So why put your team through the complicated process of quoting in Excel, entering the work order in the work order software with the possibility of errors, not to mention the additional labor and time needed? ProMRO allows your sales team to easily create repair quotes based on templates and data that has been set up and approved by your engineers with the correct database driven costs for labor and materials. Once approved, the professional quotes completed in ProMRO are converted to the work order, all while saving time and eliminating the risk of errors. ProMRO is so much more, too. It includes labor and expense tracking, inventory management and costing, manufacturing and engineering, distribution, and finance. Your MRO business may need some of the additional functionality, or a lot, like some of our ProMRO customers.
To understand the real differences between ProMRO and Excel, click below for a functionality comparison.
Discover Repair Quoting Software For The MRO & Heavy Equipment Industries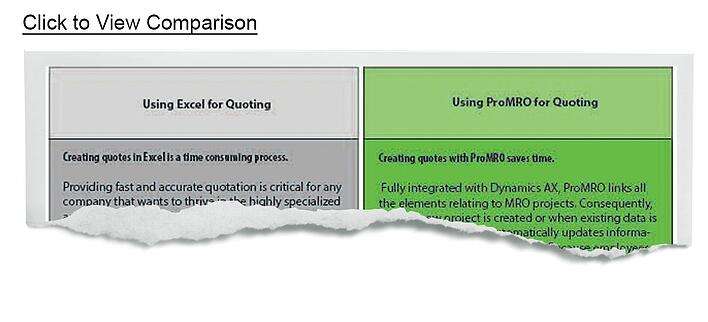 Given the complex requirements associated with the MRO industry, using a specialized software solution (that can also handle many other business requirements) such as our ProMRO module, which is specifically developed for Dynamics AX and the MRO industry instead of Excel, will make the difference between getting, retaining, and losing customers. ProMRO can even track and report on lost quotes.
Experience has repeatedly shown that MRO companies do better with Dynamics AX used in conjunction with ProMRO (Watch our customer, Sulzer, on Manufacturing Marvels). Because our ProMRO module is delivered and embedded directly within Dynamics AX, your sales team will be able to leverage the Equipment and Engineering Values functionality to create project quotes, without a steep learning curve. In fact, the entire Dynamics AX-ProMRO experience will be so seamless that your staff won't even know where AX ends and ProMRO starts. If you're ready to compliment your organization with the right mix of Dynamics AX and dedicated MRO software, we invite you to contact our sales team in Dallas Fort Worth, or Minneapolis at 800.331.8382, or email sales@clientsfirst-tx.com.