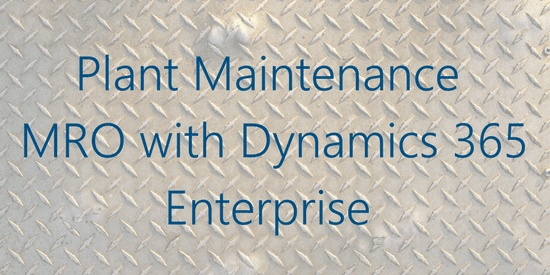 Most, if not all, organizations have machinery or equipment that requires regular maintenance. In addition to timely preventative maintenance, repairs and even complete overhauls are sometimes necessary so an asset can produce its' expected return on investment. An organization can have a tremendous investment in its' machinery and equipment as well as be dependent on their being available and working at optimal performance. Managing this well is imperative to the success of an organization.
Machinery and equipment are often required in the production process and when a needed machine or piece of equipment is unavailable, it can create havoc on an organization's production and / or operational schedules and even, at times, affect the customer. While we can't stop the need for preventative maintenance, we can work towards reducing unplanned repairs with diligent and timely planned preventative maintenance. Effectively managing this is one of the best ways to limit MRO tasks having as small effect as possible on customers.
Does your organization have an effective, timely way to be reminded of required maintenance tasks? Can you easily track the labor, parts and expenses associated with performing these as well as unplanned maintenance tasks?
Are you building an equipment or machinery knowledge base of repairs?
Are you able to quickly compare actual maintenance costs to budgeted maintenance amounts?
Do you have an effective way to communicate and schedule maintenance tasks so the planners within your production and operational areas can adjust their schedules accordingly?
Can your ERP's master planning functionality assist with this resource (people, tools and machinery) scheduling?
Are you able to quickly view the service order and production order down time history related to a piece of equipment or machinery?
Can you quickly analyze an asset and its MRO history, including expenses, to use when having to decide whether to overhaul or purchase a new one? Or even purchase an additional one?
If the answers to any of these questions is less than a resounding, "Yes!", you need to explore what Dynamics 365 Finance and Operations, Enterprise Edition can do for you. We invite you to watch this video.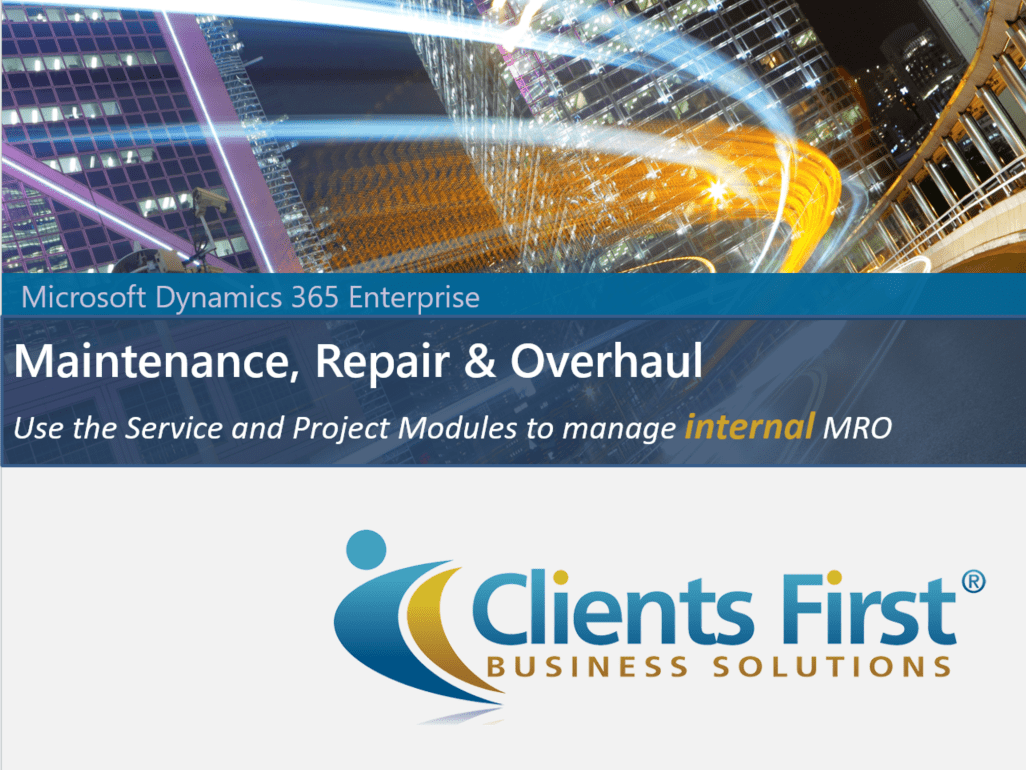 Clients First has 7 locations across the U.S.A. Two of these locations focus on Dynamics AX or now as it is named Dynamics Enterprise for Finance and Operations. We have been working with this product since its inception in 1998. We focus on Manufacturing , Distribution, Projects, and Maintenance, Repair and Overhaul (MRO). We are a Gold ERP Partner and a Certified Cloud Service Provider (CSP).
Repetitive manufacturing for discrete and

process (food and pharmaceutical)
Make to order/engineer job shops, project manufacturing,
Heavy equipment manufacturing, repair and maintenance, projects and services
EDI, 3PL distribution and transportation
We have customers in other industries too, so please reach out to us to find out more
Email: Minneapolis/St. Paul, Minnesota, or call at 877.428.7205.
Email: Dallas/Fort Worth, Texas , or call at 800.331.8382.