MRO software solutions are currently used by aircraft MRO companies to manage a wide range of operations, ranging from controlling work orders and technical records to tracking logistics. By integrating MRO solutions, such as Dynamics AX, with additive manufacturing technology, also referred to as 3D printing, the companies operating within the aviation industry can go not one, but five steps further.
Additive Manufacturing: A New Era for MRO
Additive manufacturing could radically change the MRO landscape. Consider a MRO company needing to order spare parts from a manufacturer located overseas. Not only bringing spare parts from different world regions can be very expensive; it may also take weeks for parts to arrive. In the meantime, the airplanes in need of repairs will have to stay on ground, with a significant financial impact on airlines. Besides paying for spare parts and repairs, airlines will have to cover high shipping costs and overtime pay resulting from rerouting and rescheduling flights to accommodate demands.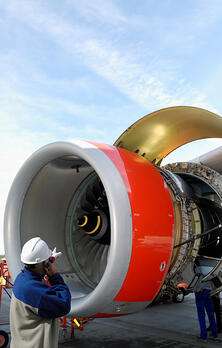 MRO software systems complemented with 3D printing functionality can deliver exactly the solution airlines and MROs are looking for. As an early adopter of this technology, the aerospace and defense industry has repeatedly proved that additive manufacturing can be used to design and manufacture any parts, from armrests to complex yet compact and lightweight jet engines, which could help make airplanes lighter and more efficient by decreasing fuel consumption. Although 3D printing may seem distantly futuristic, it has found great success in end-part production over the last few years.
Additive manufacturing can be also used as an additional repair method to maximize the serviceability of aircrafts. Offering higher part accuracy than conventional welding, for instance, 3D printing can be used by MROs to manufacture parts with complex geometries on the spot. Further developments are expected to enable MROs to build up on existing parts, which will reduce the costs and efforts associated with spare parts production.
Today, manufacturing and repair processes imply multiple steps. Additive manufacturing can help reduce the number of operations, while addressing unpredictable demand – a significant problem for every OEM, MRO, and part supplier. Although modern MRO software solutions can be used to respond efficiently to market demands, they cannot guarantee 100 percent accuracy. Additive manufacturing, on the other side, allows OEMs and MROs to print only the parts they need, when they need them, which will have a positive impact on inventory-related expenses. Another essential aspect is that a MRO company could use additive printing to produce obsolete parts, which are no longer manufactured by OEMs.
With the same technology, OEMs can cut costs by manufacturing a reduced number of products, testing the market, and then mass-producing only the items that are in high demand. Additive manufacturing also produces less scrap compared to traditional manufacturing, which is very important when using expensive materials, such as titanium. Additional benefits include spare part customization according to the requirements of each client, simplified manufacturing processes, and streamlined supply chain activities.
Getting a Clearer Picture
In 2014, PwC surveyed more than 100 manufacturing and maintenance companies, concluding that additive manufacturing adoption in the aviation industry could result in cost savings of $3.4 billion, if 50 percent of spare parts will be produced using this technology. A number of OEMs and MROs are currently using 3D printing to increase spare part availability at point of use, cut costs by reducing waste, and decrease labor content. Most of these companies have already reported significant gains in speed and flexibility relating to product development and customization.
According to other industry watchers, the global additive manufacturing market is expected to reach $6 billion by 2017. That's because 3D printing delivers more than just a neat way to produce consumer goods. Additive manufacturing holds an unexpected potential to revolutionize manufacturing, maintenance, repair, and overhaul systems along with the complex networks upon which they've been built.
For the moment, aviation OEMs and MROs can use MRO software solutions in conjunction with 3D printing technologies to accelerate the design, manufacturing, and delivery of spare parts, reduce costs, free up their staff for more important tasks, and gain the necessary flexibility to react quickly and effectively to the volatile demands characterizing the airline industry.