Since mobile ERP solutions can empower companies to make timely decisions based on real-time reports, customer information, machine data analytics, and maintenance records, many MRO companies are in the process of implementing an enterprise mobility strategy. However, only a few of them are fully executing their plans. Although mobile MRO ERP solutions can help efficiently manage a wide variety of business and workflow processes, caution is necessary especially because selecting the right mobile devices and applications must be done according to specific functional, usability, availability, security, and cost requirements.
MRO ERP: Choosing the Right Mobile Technology
From product planning to manufacturing and maintenance, ERP mobility has become a necessity. But when it comes to selecting the most practical smart device for MROs, tablets seem to be the best choice, given their screen size, portability, and ease of use.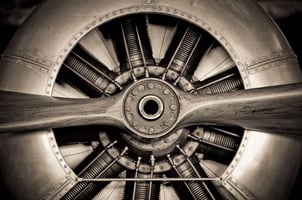 Enabling mobility on the shop floor, while making available everything a technician might need (e.g. complex maintenance manuals, guidelines, charts, graphics, 360-degree images, videos, inventory, and repair history) to perform maintenance or repair tasks, a tablet is robust enough to make work truly efficient.
In short, a MRO technician can use this device to access technical data sheets, photographs of specific parts, and video tutorials to repair machines. Instead of just assessing the situation and determining the part number, and then returning to the office to retrieve or order the relevant part, technicians are now able to use a tablet to identify faults and immediately verify whether the necessary part is readily available or not; if the part isn't available, the technician can order it on his way back to the office.
Additionally, a technician can use a tablet to browse a variety of solutions and target the best option to solve a technical problem at any location. Combined with certain ERP functionality, tablets can significantly improve MRO ERP mobility, operational efficiency, data accuracy, and compliance capability for a better bottom line.
MRO ERP: Assessing Current Constraints
Thanks to wearable technologies and context-aware applications, the MRO mobility trend will develop even further, with a positive impact on the complexity and workload of the companies operating within the MRO sector. However, the vast majority of MROs are currently testing different mobile technologies and devices, which means that many of them are still operating in desktop-based environments. Partial mobility and automation can lead to a series of limitations relating to:
Information – In the absence of mobile technology, technicians are unable to access OEM data sheets and real-time updates while executing onsite maintenance or repairs. Lack of timely information could significantly hinder progress.
Performance: Since lack of data constraints on maintenance and repair activities, performance can fall short of expectations. An additional issue is process inflexibility, which may lead to inefficiencies affecting all business areas, from part availability to customer management. For instance, lack of real-time communication can lead to overstock or out-of-stock situations.
Work allocation: MRO ERP mobile solutions also impact workforce management. Without mobile technology, an MRO company may be faced with inefficient work allocation, further leading to labor inefficiency and even error incidence.
Customer relationship management: The unavailability of timely information often resulting in inaccurate reporting is one of the few factors threatening customer service. While your sales team may lose a lot of time – and business, implicitly – trying to close a deal, your customers may complain about slow or lack of response. Customers feeling undervalued and dissatisfied will adversely impact your business.
In light of these facts, a series of MRO ERP mobile devices and applications have been developed to facilitate labor-intensive maintenance and repair processes. Thanks to mobile technologies, which can make work order management along with maintenance planning and status reporting more efficient than before, almost any repair work can be mobilized to save MROs both time and money.