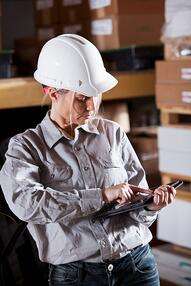 The manufacturing industry is changing at a dazzling pace, and these changes are not all due to ERP. Much of this change is caused by economic-related issues along with innovation and progression in technology. Industry experts reveal several trends that also shape the manufacturing sector. In this post, we're going to focus on the top four trends currently affecting the manufacturing companies across the country minus 3D printing.
1. Mobility
Information on-the-go from tablets, Smartphones, forklift mounted monitors, RFID tags, and other devices not only boosts productivity, but also enables proactivity, allowing managers and employees to take action before disasters occur. Mobile ERP applications facilitate the integration of different systems and areas, enabling on-the-go access to real-time business data. Instead of being tied to the desk, for instance, a manager could review information on his device in customizable dashboards, while inspecting the factory floor.
However, most manufacturers interested in implementing mobile ERP solutions are facing a major challenge besides software selection--namely, hardware selection. Since the manufacturing industry is characterized by harsh working environments, many manufacturers need rugged devices that can withstand extreme temperatures, mechanical shock and high atmospheric corrosivity. The main issue here is the price of these devices, which runs into several thousands of dollars per unit.
2. Re-shoring
Defined as the practice of bringing outsourced operations back to the US,

re-shoring

is one of the initiatives meant to revive the local economy. Among the most important reasons for

re-shoring, there are a series of financial, logistical and ethical aspects, such as better control over the entire supply chain to eliminate quality issues; hidden costs and risks; counterfeiting and other intellectual property issues; job creation and innovation; reduced carbon footprint; and last but not least, the incentives offered by federal, state and local governments. At the end of the day, bringing operations back to the US translates into significant savings for manufacturers, even though labor and resources are more expensive here than overseas.
While re-shoring will probably continue for specific industries like metals, chemicals, and other sectors that can benefit from cheap natural gas, and for products that change rapidly, such as technology and fashion apparel, analysts expect further off-shoring to be limited to the companies that have registered significant growth due to off-shored operations over the past few years.
3. Quality Assurance
Recent studies have shown that 80 percent of Americans are willing to pay more for products made in the USA. Though quality is a manageable challenge for any US company with off-shore operations, the quality and safety of the products produced overseas have become real concerns. That's not because the risk of product failure is something real, but because many manufacturing companies are experiencing quality issues as a result of off-shored operations. When liability issues arise, the absence of international conventions on recognition and enforcement of judgments can result in lengthy, costly international litigation. AX has quality measurements built in to the solution.
4. The "Skills Gap"
The decision to re-shore production presents another hurdle for the manufacturing industry: the "skills gap." Although many have criticized the idea of a "skills gap," we can't deny that certain types of manufacturing jobs ceased to exist decades ago. If we add the "baby boomers," who will retire in about 15 years, along with the new technologies, which require special skills and training, anyone can see that the "skills gap" is a very real problem.

In response to re-shoring initiatives and rising demand for skilled workers (the manufacturing industry has recorded a 47 percent increase in job openings between 2009 and 2013), the U.S. Department of Education has focused more on attracting students to STEM fields. Additionally, the National Association of Manufacturers has implemented an industry-wide certification program, which includes common knowledge and skills for different sectors of the manufacturing industry.
With so much innovation going on in the manufacturing sector, now is the right time to explore how advanced ERP systems encourage re-shoring. At Clients First Business Solutions, we provide a wide range of competitively priced ERP solutions that can modernize and streamline a series of business areas, ranging from inventory and manufacturing operations to sales and accounting, while putting mobility, BI and analytics at your fingertips. For more information about our products and services, contact our sales team at 800.331.8382, or email sales@clientsfirst-tx.com.