Growing manufacturers rely on balancing supply and demand. As a manufacturer, you know too little or too much inventory is bad for business. Optimizing inventory levels to minimize costs while maximizing opportunities is the key. Of course, it's not easy to know what's the right amount of inventory to predict what you are going to need when you are going to need it. This is especially true when you struggle with manual processes and disconnected systems. Successful manufacturers have learned over the years to invest in technology to help. Keeping your supply and demand in balance with automated integrated tools eliminates the errors associated with human related redundant data entry and other manual processes.
Download the whitepaper below to learn how successful manufacturers invest in modern technology and get a Return on Investment (ROI).
What are the costs of poor inventory management?
Increased costs - As a "rule of thumb" carrying costs run between 15% to 20% of inventory value but can go as high as 75% in some industries.
Increased waste - For perishable products or those that include a technology component, too much inventory can drive costs up further as idle inventory becomes obsolete.
Production delays - Not having enough of the right components throws off production schedules and raises costs as lines are retooled to work around the shortage.
Lower customer satisfaction - When production stalls, customer orders are delayed, lowering satisfaction and damaging the company's reputation in the global marketplace.
Missed opportunities - Not having enough raw components when needed, or worse, not knowing what finished goods can be produced by when can cause sales to plummet as orders are lost.
How modern manufacturing ERP systems help avoid these costs
A modern Enterprise Resource Planning (ERP) and Material Requirements Planning (MRP) solution addresses the challenges above. If you don't have the right data at the right time your business will suffer. This whitepaper explores trends with manufacturing such as various forecasting models and automating your processes and with Microsoft Dynamics 365 for Finance and Supply Chain (Dynamics 365). When you work with an ERP manufacturing software expert, it makes implementing these solutions easier and helps you to reach ROI faster.
4 benefits of upgrading your ERP systems and working with a manufacturing expert
Users moving from disparate systems or error prone human related redundant data entry paper-based processes can expect Dynamics 365 user productivity to increase by up to 30%.
Average inventory reductions range from 10% to 15%.
Manufacturers moving from other disparate applications can often redeploy hardware, cut maintenance contracts, and allocate IT resources to other projects.
Reduced freight and shipping costs. You'll have better visibility into shipping operations across the supply chain can enable manufacturers to consolidate and streamline ordering and reduce shipping costs. – Source: 2010 Nucleus Research, Inc. ERP
To learn how successful manufacturers get a faster return on investment, read this whitepaper by Clients First Business Solutions: THE ROI OF MRP: HOW ERP TECHNOLOGY CAN HELP MANUFACTURERS SAVE MILLIONS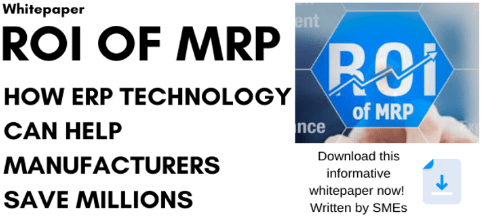 The Clients First Difference
Industry expertise and experience – Clients First consultants have direct experience in the industries we support. The Clients First Texas and Minnesota offices are known for vertical expertise in manufacturing, job shops maintenance, repair and overhaul (MRO) for aviation or heavy equipment organizations. We have customers in other industries too including make to order/engineering job shops, project manufacturing, field services and wholesale distribution.
We're a Microsoft Gold ERP Partner, a Certified Cloud Service Provider (CSP) and an Acumatica Gold Partner.
Please contact us for a free evaluation of your current manufacturing operation. If it's a good fit, we'll work with you on a plan to implement Dynamics 365 Finance and Supply Chain or Dynamics Business Central to improve your bottom line.
Contact Us: Email: Dallas/Fort Worth, Texas or call us at 800.331.8382. We're located in Dallas, Texas and service companies worldwide.