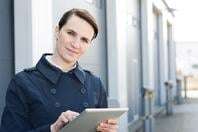 Three Steps to Lean Transformation in the Manufacturing Industry
Lean manufacturing focuses on the optimization of the production stream for the purpose of reducing waste. One way to reduce waste is to facilitate access to timely, relevant information. Today, nothing provides better access to information than IoT. Below are three steps you should take to make the most of IoT and give your lean manufacturing strategy a boost.
1. Modernize Your IT Infrastructure.
Since IoT in a manufacturing environment involves the use of numerous "things," ranging from desktop computers to Smartphones, RFID tags, video cameras and biometric devices, along with the transfer of large amounts of data between multiple devices simultaneously, you need a high-bandwidth infrastructure that is able to support all data traffic.
With more devices being added to daily operations, a series of concerns about IT infrastructure, bandwidth, and device/network interconnectivity have risen across the manufacturing industry over the past few years. As IoT needs a truly strong backbone, networking and infrastructure industry leaders have developed solutions that are comprised of several cloud computing options: advanced, service-oriented, highly secure on-premise, cloud, and hybrid infrastructure solutions, that provide adequate support for a wide variety of wireless sensor networks (WSN).
In addition, manufacturers have designed and produced "smart" devices with capabilities of storing, generating, processing and sharing more data than before. For example, some tablets have the same out-of-the-box memory and data transfer capabilities as laptops. By interconnecting the advanced infrastructure solutions with the right "smart" devices, you can easily integrate:
all of your business areas

handle high-volume, high-velocity data

capture relevant, time-sensitive information

help you make good decisions that will reduce waste and improve yields
2. Use the IoT as a Basis for Lean Manufacturing.
A manufacturing company can use all the data generated, processed and gathered from IoT devices not only to implement manufacturing lean principles but also to fine-tune methodologies, concepts (including Six Sigma), processes, and strategies to finally achieve maximum output with minimum input.
For instance, if you equip your machines with high-performance technologies, you can develop new, more relevant sets of KPIs and measure machine utilization rates against them. Using intelligent devices, you can even "listen to the hum of the turbines and know […when] they are out of spec and need to be fixed […]" as Joshua Greenbaum, president of Enterprise Applications Consulting, said. Identifying the machines that no longer perform at their optimal capacity and repairing or replacing them before an unexpected breakdown occurs will help avoid downtime, reduce waste, and cut costs. Therefore, IoT enables manufacturers to switch from reactive to predictive maintenance, which is another valuable concept of lean manufacturing.
Also, IoT provides 360-degree visibility into shop floors, supply chains, warehouses, and distribution, delivering real-time data streams that can be used to identify new patterns, optimize processes, gain and maintain complete operational control, and drive new levels of efficiency across the manufacturing industry and adjacent sectors.
Here is an automated IoT scenario for part replenishment with AX 2012 R3 taken from a webcast by MsDynamicsWorld that showcases how easily IoT can work with AX and Raspberry Pi: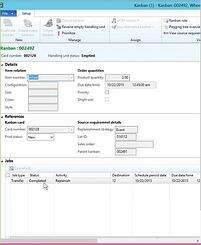 In the context of lean manufacturing a "workcell worker" will perform an assembly task at a designated workcell that needs a particular part to be replenished (a workcell is an arrangement of resources in a manufacturing environment to improve the quality, speed, and cost of the process. Workcells are designed to improve operations by improving process flow and eliminating waste). In order for the part to be replenished, a water spider will supply the part to the workcell worker in a timely manner (a water spider is a person or even a robot who is responsible for performing a wide range of tasks, which allows workcell workers to perform tasks without distraction). The process is controlled by Kanban in AX. Process and transfer Kanban jobs will be assigned to the workcell worker and the water spider, respectively. In this scenario, IoT will automate Kanban replenishment, and the water spider will refill the emptied part location from the main storage location for the workcell worker. The Raspberry Pi computer and IoT sensor device powered by Windows 10 IoT Core will be used to automatically determine when the part location should be replenished and send signals for Kanban jobs assignments and updates to AX to track job progress (you can think of Raspberry Pi as a low-cost little computer with programmable I/O pins in which you can attach physical devices and sensors allowing for the processing of the automated tasks). This automation allows the plant supervisor complete supervision of processes even out of the office with AX.
3. Focus on Security.
There are seven components of IoT security -- device, communication inside the firewall, communication outside the firewall, cloud operations, cloud platforms, cloud applications, and cloud development. Device security covers a rather large category-- it's about developing on the device, managing the device, and securing the device.
In the past, we have found that IoT providers can only do so much to help with IoT security. It's really up to the customer to know the applications of their IoT. The person who controls the device is the one who operationally has the ultimate security, giving the right permissions, and locking things down appropriately. Instead of adopting a restrictive IP strategy of your own, you should partner with service providers that comply with local laws and regulations, have already implemented network security best practices, and can ensure that suitable controls exist for every aspect of the service provided.
At Clients First Business Solutions, we provide enterprise-wise ERP solutions that put IoT, Big Data and BI in the palm of your hand. Equipped with actionable dashboards, alerts, KPIs, focused analytics, and any customizations you may require, our solutions allow you to develop a true understanding of your operations, turning lean manufacturing into actionable and realistic goals. To learn more about our products and services, contact our sales team at 800.331.8382 or email sales@clientsfirst-tx.com.