Updated 01/23/2017 - Microsoft Dynamics is an ERP solution by Microsoft that helps organizations increase their net revenues by improving employee productivity. The system also increases the value of information by enabling all people in the organization access to critical business information. Microsoft Dynamics AX 2012 features rich industry and core ERP capabilities in a single global solution, thereby enabling fast time-to-value.
Top management executives as well as other employees will find Microsoft Dynamics easy to learn and deploy in the organization for immediate benefits. The ERP software is easy to use and provides the tools you need to differentiate your business, modify processes and expand your opportunities.
Below are the core modules available in Microsoft Dynamics AX 2012. An overview of the modules for the new Dynamics 365 for Operations once known as AX 7 can be found on our page about the new release.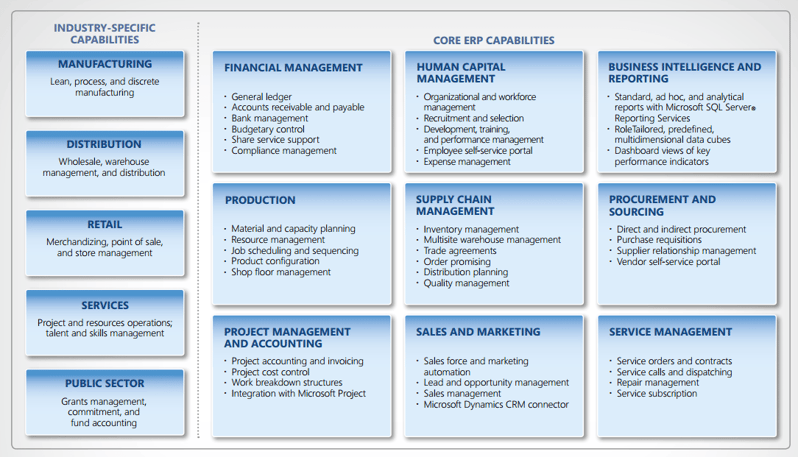 Accounts Payable
This module helps you to manage vendor invoices. You can create and track outgoing invoices, enter the invoice number electronically or manually, or have the vendor enter the invoices through a vendor portal. Other tasks you can do include reviewing, flagging, approving and paying the vendor invoices.
Accounts Receivable
In this module, you can manage your customer invoices and incoming payments. Other tasks you can do include creating customer invoices, receiving payments through different payment types, creating non-sales related invoices, settling invoices among others.
Budgeting
The budgeting module enables you to set up, create and view budgets. You can create budget register entries for the original budget, monitor the funds available for planned programs, revise or transfer the budget, view budget status and history, create budget reports, among other activities.
Cash and Bank Management
The cash and bank management module enables you to maintain your organization's bank accounts and
financial instruments such as promissory notes, bills of exchange, checks, and deposit slips. The module is integrated with different modules including General Ledger, Accounts Receivables, and Accounts Payable.
Fixed Assets
This module helps you to manage your organization's fixed assets such as equipment, land, vehicles and buildings. You can set up acquisition information about the assets and then depreciate them based on set capitalization. You can also calculate the adjustments on the fixed assets to know the optimum time to dispose them.
Human Resources
This module gives you a clear overview of the performance of your workers, enabling you to identify areas that they can improve efficiency and reduce cost at the same time. Examples of tasks you can accomplish under this module include maintain comprehensive worker information, administer organizations structures, control absenteeism, review worker performance and so on.
Inventory and Warehouse Management
This module helps you to control inbound and outbound activities related to inventory. For example, you an keep track of expected inventory, set up quality inspection and automate quality associations, process shipments to complete orders and so on The module can be integrated with various Microsoft products including Product Information Management, Microsoft Excel, SQL Server Analysis and SQL Reporting Services.
Procurement and Sourcing
Procurement and sourcing can be time consuming and a financial fatality in case of erroneous entries. With MX Dynamics Procurement and Sourcing module, you can create purchasing policies to control the purchasing process, hence speeding up related processes. Other tasks you can manage here include creating agreements with vendors, ordering items and services, maintaining vendor information, identifying suppliers and so on.
Project Management and Accounting
This module enables you to manage and complete different projects. You can set up customer-focused projects based on fixed prices or times and materials and manage the cost of investment or internal projects. Some tasks in the module can be integrated with Microsoft Project Server, making the project planning flexible.
Travel and Expense
If your employees incur expenses for your business during travel, you can manage the expenses through this module. Here, you can define expense policies and automate reimbursement of travel. Other important tasks you can do include create expense reports, create cash advance and travel requisition pages, among others.
As economic and operational challenges continue to define the health of today's organizations, VPs need to look beyond legacy solutions to address the challenges in a more agile and faster manner. Microsoft Dynamics 2012 AX is a formidable solution for organizations looking to develop innovative products and services and expand into new markets while improving efficiencies and keeping costs down.
Updated by Nancy Phillippi, Sales and Marketing Director, Texas
info@cfbs-us.com | 800.331.8382
Related Articles: