Do you think it's too early for a cloud ERP software upgrade?
When is a good time to consider upgrading to cloud ERP software? It's hard to ignore the increased necessity of enabling your employees to work remotely, whether it's servicing customers in the field or working from home. You may not be ready to purchase a new system. It's never too early to evaluate options, and don't let it get too late! Considerations for upgrading include timing and resource availability. An assessment will give you a good sense of potential gains to the business, such as remote capabilities, increased efficiencies, visibility, and customer service.
Acumatica is a modern cloud ERP software solution that provides remote capabilities to continue day-to-day operations while working remotely. It's completely integrated, so all operations can communicate and access data in or out of the office on computers or mobile devices.
The remote workforce "new normal" is business as usual for our Acumatica cloud ERP software customer.
One of our customers, Power Storage Solutions, is not missing a beat during these challenging times. They provide power solutions to keep their customers' critical infrastructures operational. It's important that Power Storage Solutions can keep their business running with the ability to communicate in or out of the office. Acumatica cloud ERP software enables Power Storage Solutions to respond to customers to help keep their critical operations up and running.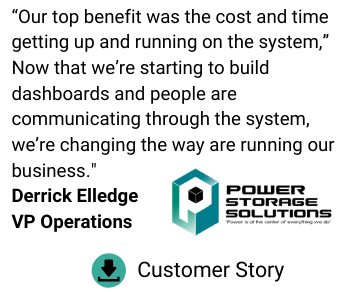 Our ERP consultant team at Clients First Business Solutions works hard to ensure the success of their ERP projects with cloud technology. It's an honor to help customers like Power Storage Solutions implement Acumatica to keep business running any time, from anywhere, in any situation. The project was such a success, it's no wonder that they were awarded Customer of the Year by Acumatica at Acumatica Summit 2020. Here's the Power Storage Solutions case study listed among other success stories for Acumatica and Dynamics 365 customers.
Here are a few reasons companies choose Acumatica:
NO per user license cost - everyone can have access
We offer a fixed fee to get Acumatica up and running
A PC and an Internet connection puts your team to work from anywhere on any mobile device.
Simple to maintain; no server, no RDP, no problem!
Quick set-up and training; faster than any other ERP system in our 20 years of implementing software systems. (Power Storage Solutions was implemented in 60 days!)
Complete ERP (Enterprise Resource Planning) software. Acumatica is modular and affordable for almost any company size. Start small and grow big!
CRM
Finance
Distribution
Field Services
MRO (maintenance, repair, and overhaul) with our ProMRO module
Manufacturing
MTO/ETO (Job Shop)
Project Accounting
Time and Expense
Rentals

Contact Clients First Business Solutions for a free Acumatica cloud ERP software needs assessment
Our Clients First Business Solutions team has been in the business of ERP Implementation for decades. We've helped companies just like yours to get the job done.
If you are ready to move forward with a software solution that enables your team to work from anywhere, please reach out to Clients First for more information.
Contact us today to learn more about our free needs assessment.
Call 800.331.8382 email info@cfbs-us.com or visit our Contact page.