Are you an Acumatica Cloud ERP customer, partner, developer, or a prospect considering Acumatica for your business? If yes, you are going to love the new Acumatica Community. Acumatica recently unleashed the power of the community and the more that join it, the more powerful it will become! You'll have access to questions and answers from hundreds of expert consultants and from other users. You'll be able to see how active a member is once they reply.
Currently, there are 577 members, 519 topics, and 188 replies. This community is expected to grow quickly with the official roll-out to Acumatica cloud ERP customers at the end of September 2020. We thought we'd give you a jumpstart and start using it today. You can just log in with your portal access, and it identifies who you are and what role you have in your business. It's quick and easy to sign up at Community.acumatica.com. Please share this information with other members of your team, too.
What can you expect from the Acumatica Community?

Discussion Forums - Discussions are broken down into the following topics:
| | |
| --- | --- |
| - Financials | - Distribution |
| - Manufacturing | - Construction |
| - Field Service | - Commerce |
| - Configuration and Installation | - Reports and Generic Inquiries |
| - Integrations and ISV Solutions | - Customizations |
| - Import and Export Scenarios | - System Health and Performance |
| - Everything Else | |

Some examples of discussions are:
Is it possible to do a Document like SO/Invoice profit adjustment?

After upgrading from 2019R2 to 2020R1, I'm seeing "Sequence contains no matching element" errors on creating customer refund on "AR302000."
The issues in both examples are pretty specific, however others have encountered the same thing. They provided detailed step-by-step instructions and screen shots. The site will tell you if the question/issue is solved and what was the best reply.
Product Ideas
Be forewarned, there are a lot of great ideas presented, so don't get too distracted with all the suggestions. If you have an idea, of course, this is the place to submit it to share them with not only the community, but Acumatica developers, too.
User Groups
You can make a request to join a user group and build your own community online or in your town or city.
Looking for more Acumatica tips?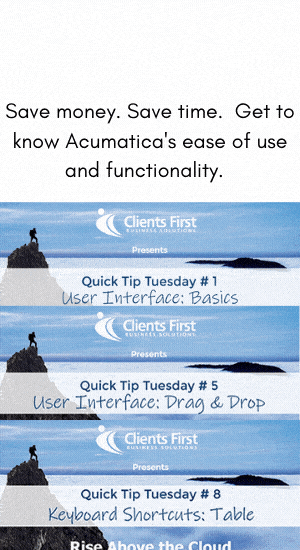 Access a personalized consultation with Acumatica experts
Clients First consultants have direct experience in the industries we support. The Clients First Texas office is known for its vertical expertise in manufacturing, job shops, and maintenance, repair, and overhaul (MRO) for aviation or heavy equipment organizations. We have customers in other industries, too, including make-to-order/engineering job shops, project manufacturing, field services, and wholesale distribution.
We're a Microsoft Gold ERP Partner, a Certified Cloud Service Provider (CSP), and an Acumatica Gold Partner.
Contact Us: Email: Dallas/Fort Worth, Texas, or call us at 800.331.8382. We're located in Dallas, Texas and service companies worldwide.