Introduction to a Modern Cloud ERP Solution with Overview of the Acumatica Modules
Acumatica is the fastest-growing cloud ERP (enterprise resource management) available since its release in 2008. Acumatica can be accessed anywhere there is Internet or Extranet, at any time, and on any device. For optimal performance, Acumatica has 5 suites to help customers obtain maximum functionality and visibility from their ERP system. The modules include Financial Management, Distribution Management, Customer Management, Project Accounting, and Manufacturing Management--all of which can be purchased as your business needs them.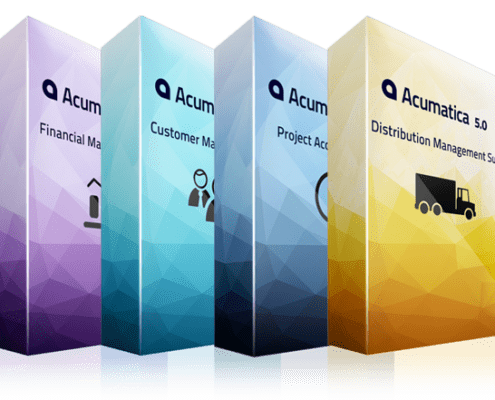 Financial Management
The Financial Management Suite is an online accounting ecosystem with many in-program features for increased functionality. The financial suite comes equipped with streamlined operations that use automation and workflow to enable your company to close books faster. It also provides your company with accurate visibility, financial reports, and personalized dashboards from a unified database. It can be used locally or internationally and can manage automated reporting, consolidation, payments, and cash management.
Distribution Management
The Distribution Management Suite is great for managing orders, tracking inventory, filling orders, improving purchasing, and providing customer support. The distribution suite helps you maintain the right amount of inventory by automating your purchasing process. This gives a true look into your company's available inventory, inventory in transit, reorder quantities, and inventory costs to keep them at a minimum.
Customer Management
The Customer Management Suite allows you to view all customer contacts across the business, utilize custom sales data dashboards and reports to manage forecasts, quotas and results, and easily share their findings. The customer suite also allows you to communicate with customers more effectively through the Acumatica Customer Portal and the Customer Self-Service Portal for improved customer service.
Project Accounting
Integrate your General Ledger, Accounts Payable, Accounts Receivable, Sales Orders, Purchase Orders, Inventory Management, and Time & Expense reports with the Project Accounting Suite. This makes it easy to track project cost, keep an accurate record of billings and compares all project costs plans so your company can budget them more accurately.
Manufacturing Management
The Manufacturing Management Suite is the newest of the suites and it provides for the simultaneous coordination of activities across your entire business. To "suite"en up the deal, Acumatica partnered with JAAS Systems, to provide JAAS Advanced Manufacturing Software (JAMS). JAMS for Acumatica helps your business respond to demand while enhancing inventory and resources for effective cost control. It also adapts to your company's needs as it grows, tracks material and labor costs, and compares planned production costs to the actual costs of production.
Your purchase does NOT include any user license costs, which means you don't have to buy your staff licenses to access the software.
Clients First business software specialists can help your company evaluate Acumatica and determine if it is the right solution for your operations. We primarily focus on manufacturing, supply chain, professional services, and maintenance, repair, and overhaul (MRO). Still eager to learn more about Acumatica and what it can do for your business? Call us at 800.331.8382 or email us at sales@cfbs-us.com.