Managing QC (quality control) and compliance within your ERP (enterprise resource planning) system or using a different database seems like a no-brainer. However, there are many manufacturing companies that are still using a different system to manage and track quality, compliance, and in some cases, lots/batches as a result of their production. If you have a QMS within your ERP, why wouldn't you use it?
End to End Quality Management is the Path to Compliance
There are numerous benefits to using your ERP's quality system or having a truly integrated QMS. The following list includes the top ones:
Keep track of vendor performance

Track and test inbound raw materials
Ensure raw materials have been tested before they hit production
Lot tracing back to the vendor, if needed

Improving your manufacturing processes and customer satisfaction

Check the raw materials before and during specified QC during production and the final finished good
Final QC, if desired, prior to shipping to your customer to ensure complete customer satisfaction
Generate/Print/Email certificate of analysis (COA) reports and show it tied to the customer shipment record - this should also save you a lot of time to have the COA automatically generated!
Report on deviations and create corrective action documents with an audit trail

Maintain standards compliance and audits for your industry such as ISO, GMP, and FDA (Keep in mind that software is NOT compliant, but your processes are, and they have to be audited.)

Create and maintain inspection plans, checklists, etc., and track calibration records to make sure everything quality related is in one place
Keep up with non-conformances with a complete audit trail

Ease your traceability steps for recalls and audits

Quickly get the data you need from raw material lot numbers and QC results all the way to finished goods tracking. You can easily have batch numbers the raw materials were used in, finished goods batches, QC results along the way, who received the materials, who mixed it or built it, and probably even the shipping BOL if needed! That's what you can get from a FULLY integrated QMS.
Time for your ISO or GMP audits? They will be a breeze since everything is in one place, including QC tests, checklists, and documentation tied to your processes within production, purchasing, etc.
Quality Management for Acumatica Cloud ERP Manufacturing
The easiest software solution I have ever sold is Acumatica Cloud ERP, but it didn't have a QMS system for its manufacturing. They had a work-around using attributes, which was not really a great way to handle quality. This was a bit frustrating for me, since I love Acumatica due to its ease of use and functionality that is rare for the price point and unlimited user licensing. I used to sell Sage PFW which had Platinum for Windows financials embedded with a version of BatchMaster process manufacturing. I knew how important it was for food and chemical manufacturers to have a strong QMS embedded within the software. Once Sage retired this product it was difficult to continue to sell to food and chemical manufacturers. I was thrilled when eWorkplace Apps, a spinoff of BatchMaster, developed an embedded application for QMS within Acumatica!
Their solution includes the following: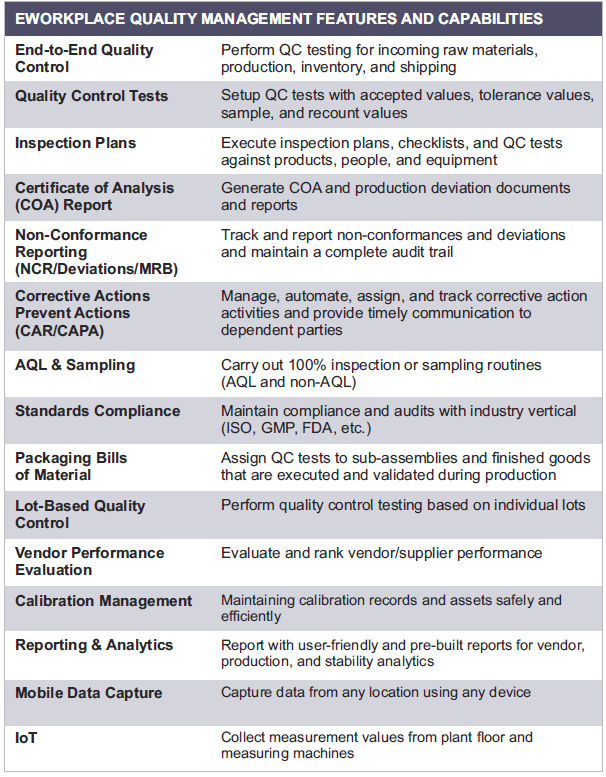 If you want to know more, check out these resources!
QMS system Overview video presentation
If you would like more information about eWorkplace Apps Quality Management System or Acumatica Cloud ERP, please reach out to Clients First at 800.331.8382. Clients First is a Gold Acumatica, Dynamics 365 Finance and Supply Chain, Business Central and an eWorkplace Apps partner. We focus on manufacturing, job shops, MROs, and service companies.