We are finally sharing the pictures and recap of the Acumatica Cloud ERP Summit! This year's event was even better since many of our customers attended, too. In addition, Clients First supported the annual event by having a booth. We actually have a Marketplace booth every year.
The picture above is part of our Acumatica Cloud ERP team. This is not a picture of our entire team--it does not include the Dynamics 365 Finance and Supply Chain or the Dynamics Business Central functional and technical consultants. A few of us were unable to attend this year due to other commitments.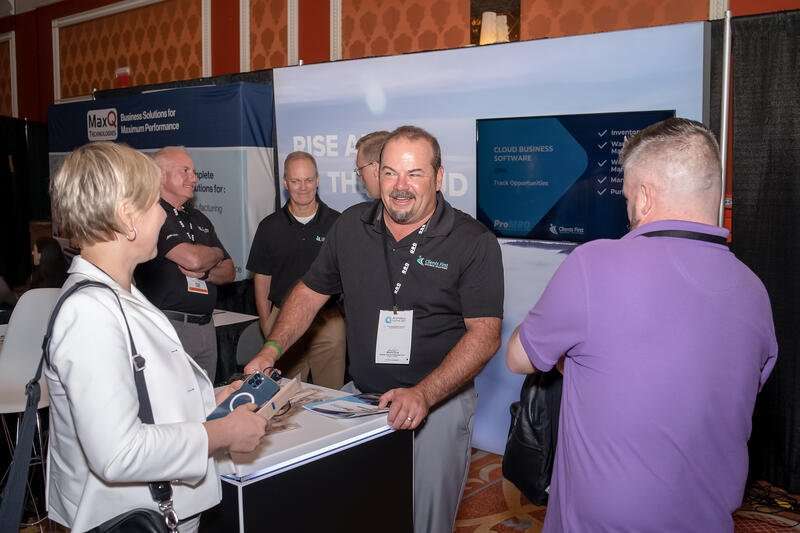 This picture includes our booth, and the people in the black shirts are Michael Conti, Managing Director, Texas Office, Mark Skinner, Services Director TX, and Bob Turner, Sales, is at the podium.
During the Summit's two keynotes (available on-demand), Jon Roskill, CEO, along with Ali Jani, CPO, and Ajoy Krishnamoorthy, VP of Platform Strategy, shared details and announcements that encouraged and assured the thousands of customers, partners, and developers in attendance that Acumatica could be relied upon—no matter the circumstances. Clients First can attest to the fact that Acumatica is the best at looking out for its vendors like us, and they are very customer focused.
Here are some quick facts about Acumatica Cloud ERP:
In addition to surpassing 8,000 customers worldwide, over the last year Acumatica:
Delivered 99.996% up-time
Ran over 4.8 billion transactions through the Acumatica cloud (on AWS)
Released Acumatica 2021 R1 and previewed Acumatica 2021 R2
Continued to provide full SOC Type I and II certification
Earned

Climate Neutral

certification
Here are some quick facts about Clients First Business Solutions Texas location:
Our managing director, Michael Conti, began working with business systems in 1982. MRP became the fad in 1990, and then transitioned to ERP in 2000.
Clients First was started in 2003 and has 6 locations. Not all the offices sell Acumatica. The Texas office is a Gold Acumatica and Microsoft Dynamics 365 Partner.
We have been working with Acumatica since 2015 and have small and large global customers using the solution.
Clients First Texas added Acumatica to its product line due to the fact that it is based on the latest in technology, it's easy to use, has an edge on other similar Cloud ERP solutions, and both our directors knew that development would be an area they couldn't wait to get started on.
We sell Acumatica, Dynamics 365 Finance & Supply Chain and Project Operations, and Dynamics Business Central, and we have written add-ons for two of these solutions: ProMRO for the maintenance, repair, and overhaul industry. This is written for Acumatica and Dynamics 365 Finance & Supply Chain, with Project Operations. ProMRO for Acumatica is focused on the small to mid-sized client and Dynamics 365 is what our enterprise customers use.
Each software has its own functional and technical consulting team. They don't cross over into other software. Each team is positive that they work on the very best solution there is! As a salesperson, I must say that they are right, depending on the prospect company's needs.
We have consultants that have worked with Michael since before the Clients First company was formed, which equates to about 18 years. Our turnover rate is very low, but we are usually always hiring since we continue to grow all teams.
Texas staff live and work across the USA from Alaska to New Hampshire. Of course, we have many consultants that live in Texas, too! Texas has two physical offices, but no one works out of them for any length of time.
Clients First focuses on the MRO, Job Shop, Project, and Service based customers. Those are the hard industries, and we make them our priority due to our years of working with those types of customers. Distribution and Finance are required for both, so we know that too!
Clients First is the Pacejet Shipping Solution integration partner for Dynamics AX and 365 Supply Chain. We also work with Cleo for their Dynamics AX and 365 EDI customers' integrations. If they trust us, why shouldn't you?
We provide direct access to our consultants during implementations and also to our directors anytime. If you'd like to speak to them, please reach out.
I hope you consider us the next time you are searching for a new ERP or an upgrade. Contact us at 800.331.8382 or email info@cfbs-us.com.