DESIGN: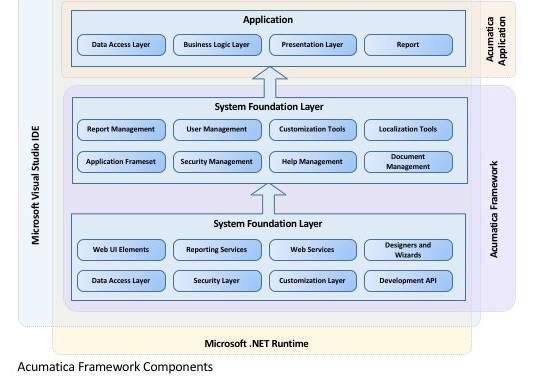 WHO USES ACUMATICA ERP:
Small, mid-size, large businesses/enterprises, and freelancers
VERSATILE DEPLOYMENT OPTIONS:
Multi-tenant, completely on the cloud
Hosted, single-tenant
SaaS, hosted by Acumatica
ACUMATICA'S HIGHLIGHTS, ACCORDING TO GETAPP.COM:
Can switch between SaaS and on-premise
Works anywhere you have an Internet connection
No software maintenance required
Integrated ecommerce and traditional sales orders
Dashboards are customizable by users
Customized BI reports included
Advanced accounting features such as using multi-currency, consolidation ledgers
Advanced distribution features for inventory, sales, and purchasing
Advanced CRM features such as converting prospects into accounts with 1-click
TOP FEATURES
Complete Cloud/SaaS ERP
No software installation needed
No capital investments in infrastructure
Fundamentally built for the cloud, but with on-premise servers available as desired
ERP can be fully managed in the cloud
Available anywhere, anytime, on any device
Some legacy platforms try to adapt to change with add-ons, stand-alone databases, or additional software to give their latest software the appearance of being cloud friendly. Acumatica, on the other hand, is a software that is authentically cloud-based, which is the platform of the future.
SaaS, more specifically, has been gaining popularity and demand. Acumatica wanted to find out why so they released an analyst report by Mint Jutras that found the top reasons businesses opted for SaaS. The reports found that:
"50% of those surveyed cited lower total cost of ownership (TCO), 47% also noted lower startup costs. 61% of those already running SaaS ERP said not having to hire IT staff was part of the appeal of SaaS. 42% of respondents included the reduced cost and effort of upgrades as an advantage to SaaS."
Adaptable Solution
Immense functionality
Can be built according to needs
Easily extendable with complimentary solutions
Integrates existing hardware and standard third-party software
Each user can set their own preferences
Optional industry-specific extensions
This cloud-based platform was designed to provide maximum adaptability to your business management software. Acumatica easily integrates with CRM or data visualization and can be extended to include other solutions and applications beyond ERP.
Unifies Operations
Unlimited users with one fee
Global capabilities: multi-company, multi-language and multi-currency
Fully integrates all data with product suites
Also integrates with other software solutions through Application Programming Interfaces (APIs) that do not change with every release
Real-time collaboration
Information accessible to employees, vendors, partners, and customers
Unified to insure data accuracy (such as merging ERP and CRM in a single system)
Control productivity and maximize your resources by giving complete visibility to everyone, everywhere. Acumatica also integrates seamlessly with other software programs, so it only takes one software to manage your entire business.
"The ERP software uses a rich user interface (UI) and flexible on-page navigation that contributes to a positive user experience (UX). The dashboards are strong and the information reporting is far better than many other cloud ERP systems," said Chuck Schaeffer about Acumatica's user interface.
Accelerate business
Handles large accounts with high transactional volume with ease
Accessible — personalized dashboards and self-service BI (business intelligence) are standard at no additional charge
Auditable with an electronic record of transaction activity
Able to embed workflow processes such as "approvals" to be automatically routed
Improves efficiency by simplifying processes
Allows casual or infrequent users without having to buy additional user licenses
Enables secure access to the whole applications, or specific fields, based on the role of user
Acumatica was designed to accelerate business performance by automating workflows, allowing for more precise data collection, better financial analyses, and optimum forecasting that leads to better business decisions.
Case Studies:
"Mid-sized manufacturer gains 400% productivity, creates powerful integrated system with Acumatica"
"Design company saves $80,000 a year, doubles productivity with Acumatica"
GetApp.com Verified Review:
"Great Cloud ERP"
"We are using the software internally to replace our existing ERP. We are choosing the on-premise model so that we can more easily access the SQL data for reporting purposes. We will be using the core financials and project accounting for time and billing purposes. The interface is a snap to learn, and very customizable. Lots of great UI features like copying transactions, customizing the grid layout when entering data, and more. We were also easily able to import our master records using the built-in import tool. Using sub-accounts and the Analytical Report Manager (ARM) for financials is similar to the old FRx, but better, and also built into the platform.
Pros: Great user interface, easy to add custom fields, some unique features like Attributes, sub-accounts, non-inventory items, Branches good, detailed security model, choice of options of deployment, built-in reporting and report customizations, good drill-down features within the reporting
Cons: The custom report modification tool needs more polish to it. The built-in CRM system could be more robust, compared with a CRM-only system."

Acumatica is a Winner!
Acumatica has been singled out from its competitors as the editor's choice by PC Magazine as a leading software in its class. Acumatica also won the 2016 CODiE Award for Best Supply Chain Management Solution.
Still have questions about Acumatica? Call our office at 800.331.8382, or email sales@cfbs-us.com for answers that are tailored to your business' particular circumstances. Our sales team looks forward to learning about your business.
Resources: Getapp.com, socialerp.com