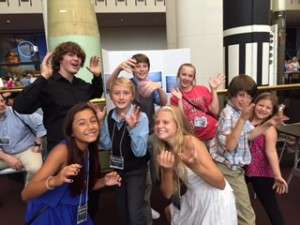 By: Mica Mitchell (proud Mom of Westley Mitchell)
This month saw an amazing experience for four young people from North Texas in Washington, D.C.
A team from Academy at Nola Dunn made Burleson, Texas stand out a little brighter on the National map by grasping the initiative to extend their reach to D.C. and even into space.
The space adventure began for Burleson in 2014 when the Board of Directors decided to give Burleson schools the opportunity to participate in the National Center for Earth and Space Science Education's (NCESSE) Students Spaceflight Experiments Program (SSEP). The SSEP is a competition where students are given the opportunity to design and propose an experiment to fly to the International Space Station (ISS) where resident astronauts will conduct the experiment. Upon return to Earth, the experiment is analyzed by the student team to determine the impact of microgravity.
Elementary and middle schools throughout the Burleson ISD participated by brainstorming experiment ideas and writing a scientific proposal for their chosen experiment. Three finalist proposals chosen by a local Step 1 Review panel were forwarded for Step 2 Review by a team of experts convened by NCESSE. The finalists included a team from Clinkscale Elementary and two teams from the Academy at Nola Dunn. The winning team was from Academy at Nola Dunn.
The fifth grade Academy students, Bryston Baker, Kylie Morton, Delaney Storey, and Westley Mitchell, tirelessly led by their teachers Mrs. Susan Mundt, called their project "Puzzling Polymers." Does anyone know what a polymer is? Much less microgravity? Well, they figured it out and researched what polymers do and why researching their behavior in microgravity would be beneficial to the human race.
They had to gain an understanding of the expected behavior of polymers, where to procure them, the correct way to operate a Fluid Mixing Enclosure (FME), how they would measure and compare the data from the experiment that went into space and the ground truth experiment they implemented on earth, how to deal with critical timelines, and how to communicate all they learned through a written proposal, power point, and verbal presentations.
They worked through lunches and at home, and even kept the success of their mission secret from everyone including family and friends until the official announcement from SSEP. They all worked long, extracurricular hours to get the experiment exactly right so it would be accepted for flight.
They worked with NCESSE scientists, teachers and professors in the area to get it perfect, because one slip-up and the experiment would be left behind. All their hard work and questions paid off, and their project launched into space last month. But the kids were not finished yet…unfortunately Mission 7 exploded two minutes after take-off. All of the student flight experiments were gone and all of the astronauts' supplies were, too. Fortunately no one was hurt. But the show must go on and the team made their way to Washington, D.C. to present their experiment during the SSEP National Conference at the Smithsonian's National Air and Space Museum.
There were a total of 30 teams presenting their projects at the conference, five of which were from Texas. The teams included teams from Missions 5, 6 and 7, and teams came from all over the continental U.S. and Canada.
Many teams were in junior high and high school, but a few, like our representatives, were in elementary school when they started their adventure.
When it came time for Bryston, Kylie, Delaney, and Westley to present, they did an outstanding job. They spoke loud and clear and were proud to represent North Texas. Dr. Jeff Goldstein, the Director of the SSEP program, commented positively on their presentation and remarked how wonderful it is that young people now have an opportunity to contribute to science and progress.
At the conference, the students also enjoyed presentations on human exploration, microgravity, aiding scientific research, how NASA commercially funds space research, the Messenger Mission to Mercury, and the New Horizons Mission to Pluto.
In addition to the time spent at the conference, the students were able to explore Washington, D.C. and the many monuments and museums that abound there. They had adventures through world history, amazing artwork by famous artists, the history of flight through air and space, and the awe inspiring monuments and the memorials that make you reflect on the past and all its glory, what our nation has fought for, and why we are who we are. All of the cultures of all the world were there as well. It was the adventure of a lifetime.
The young scientists and their families would like to thank NCESSE , the SSEP, and all of the teachers that helped along the way, the Burleson ISD Board of directors for bringing the program to Burleson, and the many judges from high schools and universities that reviewed all the initial submissions, and the sponsors that helped them get to Washington D.C. Special thanks to Mrs. Susan Mundt, Mrs. Stacy Hughes, and Mrs. Lindsey Byrd for the experience of a lifetime from Burleson, Texas to Washington, D.C. and back.
Now my son Westley wants to be an astronaut! Not sure how I feel about that one, but…Space Camp here he comes! ?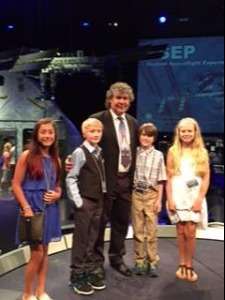 The SSEP (http://ssep.ncesse.org) is undertaken by the National Center for Earth and Space Science Education (NCESSE; http://ncesse.org) in partnership with NanoRacks, LLC. This on-orbit educational research opportunity is enabled through NanoRacks, LLC, which is working in partnership with NASA under a Space Act Agreement as part of the utilization of the International Space Station as a National Laboratory.
P.S. Clients First developed the ProMRO solution, an ERP solution for Maintenance, Repair and Overhaul Firms including Aviation. Imagine the implications of having ONE integrated data system for quotes, invoices, and reporting.