With the increase in the number of aircraft in service, stringent regulatory frameworks, competitive profit margins and concerns for passenger safety, Maintenance, Repair and Overhaul (MRO) is becoming a major market within the aviation industry.
Aircraft are becoming more complex. Today, composite materials are used in the manufacture of engines and systems and there is continual development of passenger services such as WiFi systems and touch screen entertainment. These changes present unprecedented challenges to companies specialized in repair of components, engine overhauls, manufacture of original equipment and maintenance of aviation assets.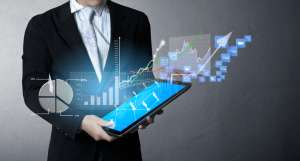 Traditional Enterprise Resource Planning (ERP) systems have mainly focused on financial functionality and not MRO. On the other hand, niche MRO solutions are lack the enterprise breadth for the wider business. Another limitation of traditional ERP systems is their complex implementation, which often requires significant consulting investment.
Both traditional ERP and niche MRO solutions have failed to keep pace with the changing dynamics of the aviation industry.
Mobile Technology for ERP and MRO
Smart devices such as smartphones and tablets can provide additional capability to maximize the efficiency of ERP MRO solutions. Airlines are realizing that a small investment in mobile technology infrastructure to support their mobile applications and MRO operations can result in better returns out of their IT budgets.
Mobile applications can help organizations change the way they do business, leverage their existing investment in Enterprise Asset Management (EAM) solutions and deliver huge return on investment in the following ways:
i) Going Mobile
Today's generation of MRO engineers are tech- savvy and use computers, cellphones, smartphones and tablets in their daily life. In today's workplace environment of bring-your-own-device (BYOD), mobile applications can be beneficial to organizations as long as issues of safety and regulations are taken aboard.
Tablets are adaptable to support the general MRO. The devices are portable yet relatively robust, can run mobile applications, have productive user interfaces, and most people are familiar with them. The devices can also incorporate wearable technology and take photographs of specific parts that need to be repaired.
Tablets are helping to save time and maximize efficiency in MROs and broader support processes. The devices are accomplishing this by enabling technicians to view available stock, approve work orders and check repair history at the touch of a screen.
ii) Optimize Operations
MRO is a complex process. To track various processes such as how certain suppliers are performing, the cannibalization of another aircraft, the status of an engine overhaul, and where certain parts are in their lifecycle, comprehensive ERP support solutions are required to keep on top of operations and business. The more holistic an ERP solution is, the easier it becomes to extract management information and improve the bottom line. To optimize processes, the integration and use of mobile technology becomes necessary.
Integration of data, metrics and business and operations objectives is important. For instance, an organization should be able to track the cost of labor versus the cost of individual component, all cross-references to the need for the aircraft to be serviced at a particular time. For this to be accomplished, data and processes must be accessible and integrated.
iii) Mobile ERP
Keeping track of all the information required in MRO via traditional ERP solutions or complex spreadsheets is not viable in today's business world. To stay competitive and save time, organizations can use smart devices to access such information and processes in real time. With effective mobile solutions, only the information required at a particular time will be made accessible to the user, thus increasing efficiency.
In the civil aviation market, maintenance does not take place in the office but rather on the ground, by the aircraft or in an aircraft hangar. During maintenance, engineers don't require full enterprise suite functionality. Rather, they may require an anticipatory depiction of the information that will allow them to solve the problem quickly. This information needs to be readily available on their fingertips.
The Future of Civil Aviation: It's All about Agility
Many of the changes being witnessed in civil aviation MRO are driven by engineers. However, by enabling mobility in the cockpit or on the floor shop, organizations will realize significant benefits in terms of remaining competitive in the market.