This year we have even more new features to showcase and hopefully some of our latest additional modules will be ready to show you too! The ProMRO Kiosk is one module we didn't have at the last show in 2019 (the 2020 show was canceled). The Shop Floor Kiosk Kiosks – Developed for one of our larger customer is a web-based app that lets employees "log" into Project tasks, check-out tools, inventory and more. We have also developed a Biometric Clock with a facial recognition app that lets employees clock in and out of work.
We have an Inspection App in development which is super exciting for our customers. We are taking this process to and making it a must have for everyone doing inspections! Having an integration to the entire operations modules make sure nothing is missed and you have the proof to show your customers in pictures, from inspection of the materials as they come in to the finished repair and packaging for shipment.
ProMRO is an Access Anywhere ERP. ProMRO software is designed for MRO with a focus on the aviation industry. ProMRO is embedded within Acumatica Cloud ERP and provides an inspection app, fast quoting, shopfloor kiosk entry for tool checkout & time entry, costing of labor and materials, tracking of customer equipment, invoicing, payables, financial reporting, and dashboards/KPI for every role in your business in one easy-to-use system.
Register here for MRO Americas 2021 in Orlando FL, April 27 - 29th 2021. We will be in booth 744 waiting for you to stop by!
Can't wait to speak to us? Reach out now by calling 800.331.8382 or email info@promrosoftware.com
Read our eBrochure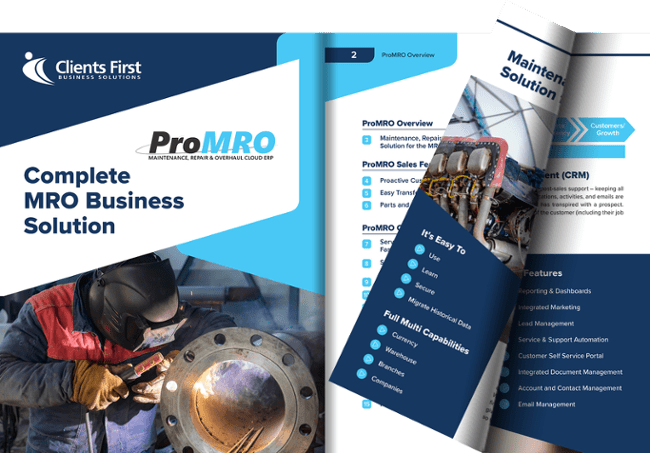 "Many years ago we discovered Acumatica as a rapidly growing web based ERP, now a Gartner Quadrant Leader. Acumatica delivers feature rich modules across distribution, manufacturing, and professional services. Acumatica supports robust reporting, dashboards, custom grids, fields, advanced security, and a well-documented API for custom cloud integrations. ProMRO leverages core ERP Project Accounting for the Maintenance Repair Organization across CRM, Estimating, Work Orders, Technical Management, Tooling, Inventory, Purchasing, Receiving, and General Ledger."
Rob Wire
Vice President, Information Technology