ProMRO and Acumatica Cloud ERP are for the lack of a better word 'married' to each other. Really ProMRO is embedded within Acumatica for one complete ERP solution for the maintenance, repair and overhaul industry. Our customers are tired of piecing together different software systems like QuickBooks and Excel and/or a costly industry-specific tool that is a bit long in the teeth.
Join us on April 21st for our FREE Lunch and Learn session and see an overview of ProMRO for the Maintenance, Repair and Overhaul industry.
Apr 21, 2021 12:00 PM Central Time (US and Canada)
We think you will like what you see! Just ask STS Aviation:
Many years ago we discovered Acumatica as a rapidly growing web based ERP, now a Gartner Quadrant Leader. Acumatica delivers feature rich modules across distribution, manufacturing, and professional services. Acumatica supports robust reporting, dashboards, custom grids, fields, advanced security, and a well-documented API for custom cloud integrations. ProMRO leverages core ERP Project Accounting for the Maintenance Repair Organization across CRM, Estimating, Work Orders, Technical Management, Tooling, Inventory, Purchasing, Receiving, and General Ledger.

Rob Wire

Vice President, Information Technology – STS Aviation Group
Small and Large MROs can benefit from ProMRO!
ProMRO is designed for the small or large MRO with Small Business Editions to Unlimited System Users at an affordable price. The benefits are numerous including:
Utilize the Dashboards and KPI to keep organized and abreast of Sales and MRO Operations and anything else you want to have at your fingertips.
Know your costs with our work order management tools
Save shop time and costs with our Shop floor kiosk for task updates, non-routine management, inventory usage and requests, and more!
Facial recognition for clocking in and out to keep your team honest!
Manage quotes, work orders, inventory including distribution, finance, purchasing, costing,
Interface to tools like PartsBase to sell overstock inventory , send out RFPs, manage quotes and purchase all from within ProMRO.
Open API makes any integration to eCommerce, etc. a much desired function in today's technology.
Easy data access for reporting; tight integration to Excel and Outlook is amazing to see!
Yes, you can bring your legacy data too!
We hope you join us on April 21, 2021! If you miss us at the FREE lunch and learn then please visit us at MRO Americas April 27th.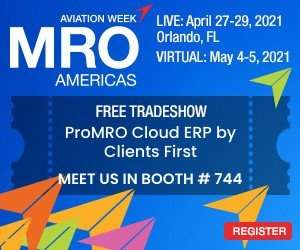 Call us at 800.331.8382 or email us at info@cfbs-us.com.