Updated 3/13/20 - PartsBase Expo 2020 has been delayed. New dates are not yet announced.
Clients First, Leading Provider of Integrated MRO software, ProMRO, Announces 2020 Silver Sponsorship at Aviation Technology Innovations, PBExpo-
March 18 - 19, 2020

Find us in Booth #227

The PBExpo is presented by PartsBase, it is the only interactive environment that brings the aviation, aerospace, and defense industries together to learn about cutting edge technology, digital transformation, digital marketing, and critical B2B eCommerce tools for success. PartsBase is the world's leader in internet-based part locator services. The PartsBase online community includes more than 7,500 companies and 30,000 end-users in aviation, defense, and aerospace industries

Clients First will be introducing a new PartsBase integration at PBExpo 2020. The PartsBase and ProMRO integration save time by seamlessly linking the PartsBase capabilities into your normal workflows.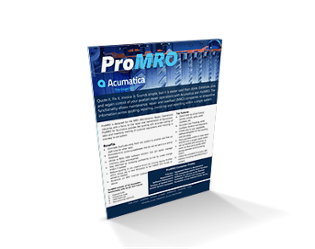 Parts requested by customers are tracked from start to finish using the intuitive ProMRO CRM system dashboards. Whether you are a shopper or a seller, PartsBase combined with ProMRO streamlines your workflow. Clients First will be demonstrating how ProMRO (maintenance, repair and operating) helps aviation, equipment maintenance, repair, and overhaul companies automate and become more profitable. ProMRO helps to quote faster, track labor and material costing, track work history of customer aircraft and equipment, serial numbers, invoicing (AR), payables (AP), Financials, Customer Management, and Marketing, in one easy to use system.
Clients First looks forward to discuss the following integrated MRO software benefits:
Eliminate duplicate entry from one system to another and free up staff time for other tasks
Eliminate error-prone spreadsheets that do not tie back to a central database
Utilize a REAL-TIME software solution that will better manage inventory, labor, and expenses
Stay informed by reviewing profitability on the fly, create change orders if needed
Reduce quoting or job creation errors by utilizing Service Profiles which allows job or task templates to be created and reused or edited as needed
Easy Core Tracking
Flag FAA-approved Item specific Vendors for purchasing of inventory or repair items
Print 8130s, easily create new compliance reports
Utilize the inherent document management
Accessible on ANY Internet-enabled device
Automation and the use of quality data are paramount to achieve a more efficient transparent procurement and sales process. Prosperous companies in the aerospace industry, for example, have moved past antiquated emailed quotes, paper faxes and outdated excel files to real-time modern integrated systems that capture good data. Profitable aerospace companies invest in real-time integrations with their customers and suppliers. Robust quality data sets allow aerospace, defense, and aviation supply chain companies to capitalize on machine learning, dynamic algorithms and business intelligence tools to identify inefficiencies and market trends to help serve customers better with higher quality margins.
Learn more , review our ProMRO flyer here. We will be handing this out at the PBExpo.
Contact our Clients First Sales Team
Our Clients First team helps MRO companies get on the path to a shop of the future. Integration is key to empower you to analyze inventory and labor costs, track quality, and handle all the operations and financial aspects of your business and ProMRO is one fully integrated solution.
Clients First is known for our vertical expertise in Maintenance, Repair and Overhaul (MRO) for Aviation or Equipment, Manufacturing and Job Shops.
Contact us at 800-331-8382 or email info@promrosoftware.com. Clients First located in Dallas, Texas and Minneapolis, Minnesota serves companies worldwide.