MRO (maintenance, repair and overhaul) companies that we have worked with over the years always have one request: Core Tracking. This is huge in the Aviation industry and for equipment repair of turbines or motors. In some instances cores are limited due to the government not authorizing new data tags or the equipment is being phased out. Clients First knew we had to have this functionality in our new MRO solution: ProMRO or ProFBO for Acumatica.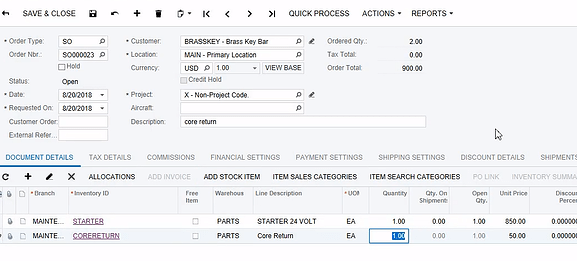 Core Return Process for the MRO
Easy as One, Two Three!
Creates core fee lines on your orders with the item information in just a few clicks! Anyone can do it with 5 minutes of training.

Include special instructions, serial numbers, N numbers, even images of the expected core.

Automatically creates the return document for core items expected.

Include special instructions, serial numbers, N numbers, even images of the expected core.

Add the list of expected returns to your ProMRO dashboard

The image below is an example of one of the dashboards available in our MRO software. I didn't have access to the software when I wrote this article so I used an image I had already so use your imagination! You can put anything that you want to keep a close watch on to your dashboard. And you can even access ALL of this information on your mobile device!
Take a look at our video on Core Tracking and you can see how easy the software is to use.
[embed]https://clientsfirst-tx-1.wistia.com/medias/shepl6q6xc[/embed]
Our new MRO software was designed specifically to address the business and operational needs of this industry. We target small to mid-sized MRO companies that are either repairing aircraft or heavy equipment. One of the great things about our MRO solution is that it is embedded within Acumatica which is a full ERP system. I would take a look at this solution if you need new software. I get very excited since it can handle MRO, Customer Service, Financials, Field Services, and even Manufacturing if you need it. You can use just the modules you need and if you have over 10 users you don't pay a per user cost for licenses!
Contact us for a complete demonstration for your MRO business. Call 800-331-8382 or email info@cfbs-us.com.