With the air travel industry developing at a faster pace than ever before, the aircraft aftermarket has attracted the attention of original equipment manufacturers, or OEMs, which has found new ways to meet the growing demand for aircraft spare parts and components. As leading providers of aftermarket services in the aviation industry, OEMs have generated billions of dollars in revenue per year over the past several years. To remain competitive, maintenance, repair and overhaul (MRO) providers cultivate new ways to generate more profit.
Airlines are currently seeking more cost-effective ways to keep airplanes out of repair stations and extend their time on wing, to the detriment of maintenance providers. As a result, MROs capitalizing on used serviceable materials and parts exchange strategies offer airlines a more lucrative route for recovering as much as possible from used materials and surplus stocks, which would otherwise be disposed of or recycled.
Advanced MRO Technology Supports Used Serviceable Material Strategies
A recent survey conducted by Oliver Wyman confirms that more than 80 percent of the airline respondents have adopted an active, comprehensive approach to used serviceable materials and parts exchange. To effectively respond to the growing demand for used materials, MROs are looking for new and better ways to identify, source, and harvest such materials. Meeting this demand could help them gain a competitive advantage over OEMs, which still promote the utilization of new replacement parts.
When considering the high costs of new materials and part shortages coupled with the increasing acceptance of used materials that are still viable or could be re-engineered, part harvesting may mean increased profits for operators. The issue still remains on how to facilitate the business and operational challenges that drive a company's ability to utilize part harvesting and refurbishment activities, supporting used serviceable material strategies.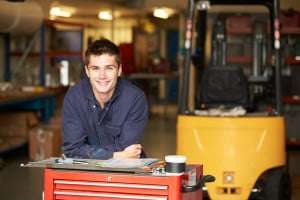 19 percent of the survey respondents admitted that 3D printing along with other MRO technologies could be used to generate non-proprietary parts, 12 percent have embraced a contradictory opinion, considering additive manufacturing as one of the best solutions for producing proprietary parts. Additionally, 60 percent of the participants reported a substantial increase in the use of serviceable materials over the past three years, agreeing on the potential benefits of 3D printing, which range from improved part availability to lower cost of spares, and lower inventory levels.
Since ensuring parts availability at the lowest possible cost is key to cost effectiveness, proprietary MRO technologies using serviceable material strategies and parts exchanges offer airline and heavy equipment MROs a business software solution. Furthermore, advanced MRO solutions like Dynamics AX with ProMRO and its inherent reverse bill of material toolset and equipment tables that contain customers' equipment with serial numbers, etc. can be tailored to meet the requirements of each MRO, improving profits while reducing the total cost of ownership.
MROs responding effectively to increasing demands for used spare parts and OEMs' reluctance to support the strategies already adopted by many airlines are two factors expected to lead to a steady growth within the entire MRO sector, with a positive impact on employment rates. Though MROs are reporting a challenging hiring environment, 32 percent of the survey respondents have already made notable progress toward expanding the MRO workforce and service offerings. On the downside, there is evidence that the prevalence of used materials and parts exchange strategies along with surplus inventory, long lead times, and delays will stem OEM momentum, forcing original equipment manufacturers to throttle back. Not surprisingly, some respondents suggested that OEMs will try to suppress the use of advanced MRO technology, including 3D printing.
As the global fleets and customer demands are shifting continuously, both OEMs and MROs are trying to seize the most lucrative opportunities that could help them contribute to the airworthiness of aircrafts and finally dominate the aftermarket industry.
Source URL: http://www.oliverwyman.com/content/dam/oliver-wyman/global/en/2014/apr/MRO%20Survey%202014-digital.pdf
To find out more about Dynamics AX and the ProMRO module, and how these two systems can help deliver reliability at a minimum cost while keeping your customer's equipment running, contact our sales team at 800.331.8382, or email sales@cfbs-us.com.