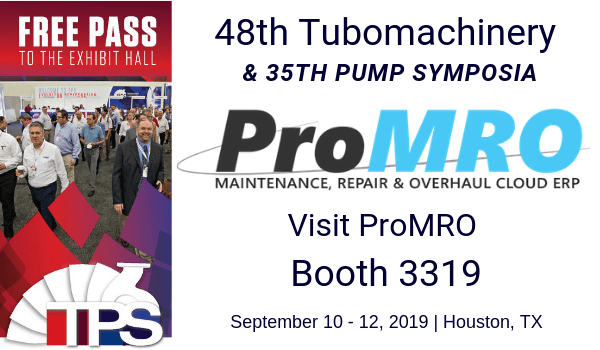 Conference Details
TPS is the premier worldwide conference with over 4,500 attendees and 350 exhibitors. It's a great event to network with your peers, visit with leading suppliers and observe full-sized product demos! We are attending to help you get the answers you need to upgrade your business' processes and systems.
Houston, TX - George R. Brown Convention Center
September 10-12, 2019
FREE REGISTRATION HERE: https://tps.tamu.edu/freepass/
We look forward to meet you and learn how ProMRO and our MRO solution consultants might help improve your operations and profitability.
ProMRO in booth 3319
–

a complete MRO software for turbomachinery and pump industries

Turbomachine and pump industries are filled with complexities. If you're using outdated software or software that causes too many manual processes, visit us in booth 3319!

Many MRO businesses we encounter are using outdated, manual, or non-integrated systems. Our ProMRO solution helps to manage the complexity of MRO with a modern, easy to use, and integrated system.

Contact our Clients First Sales Team

Our Clients First team helps MRO companies get on the path to a shop of the future. Integration is key to empower you to analyze inventory and labor costs, track quality, and handle all the operations and financial aspects of your business and ProMRO is one fully integrated solution.

Clients First is known for our vertical expertise in Maintenance, Repair and Overhaul (MRO) for Aviation or Equipment, Manufacturing and Job Shops.

Contact us at 800-331-8382 or email info@promrosoftware.com. Clients First located in Dallas, Texas and Minneapolis, Minnesota serve companies worldwide.